Plenty of breweries say they want to help strengthen their communities, but few can show as much expertise, commitment, and follow-through in that area as Métier Brewing. Everything from where the beer is sold to who creates the artwork to the choice of general contractors reflects the brewery's mission: "Brew damn good beer and build stronger community to inspire bigger dreams for all."
Before opening Métier in 2018, cofounder and CEO Rodney Hines had a career in nonprofit organizing, community development, and corporate citizenship. Critically, he also had a homebrewing interest going back to his college years. Years later, when his cycling trainer at Métier Racing and Coffee, Todd Herriott, mentioned a brewery for sale a half-hour's drive from Seattle in Woodinville, Washington, Hines saw an opportunity. During a semester spent in London during college, he'd experienced how beer could power more than just relaxation.
"It's fascinating to see how art, conversation, and dialogue happen in a pub," Hines says. "I go back to the civil rights movement, and how those conversations sparked and were maintained in churches and basements and kitchens, and I think about the relationships between space, connection, dialogue, and action."
Creating inclusive beer and hospitality spaces is a priority that's both professional and personal for Hines, who is Black. "Having loved beer all my adult life, there are often times that I walk in [to a bar or taproom] and don't see myself reflected at all," he says. "There are places I've chosen not to go back to because of that."
In just three years, Métier has exemplified how breweries can infuse an ethic of social and racial equity into day-to-day operations. In June, Métier plans to take that mission to a larger audience by opening a brewpub in Seattle's Central District, a historically Black neighborhood, in partnership with chef Harold Fields of Umami Kushi restaurant. Métier also will be the brewery partner for the Seattle Mariners' Steelhead's Alley development, slated for the former Pyramid Alehouse space across from T-Mobile Park. These ambitious plans aim to welcome people who may not already consider themselves craft-beer fans into the fold—not just as consumers, but as collaborators.
"Metrics for success for business need to be disrupted," Hines says. "The default is to solely look at either your revenue or your gross net, but how do we look holistically and define what it means to be a successful business? I want Métier Brewing to be a new model for measuring success."
"Brew Damn Good Beer"
Here is the word that comes up more often than any other in discussions with Métier's brewing team: integrity.
For head brewer Michael Daly and general manager Dreux Dillingham—who also heads up research and development—that means brewing consistent and accessible beers. It also means researching a style's history and technical parameters—sometimes to honor that legacy, and sometimes to bust outside of it with intention.
Whether they're brewing classic styles such as pale ales and Czech pilsners or something new (such as a recent spiced imperial amber lager), each beer needs to tell a story bigger than what's in the glass. A story that connects to worlds beyond beer—food, art, sports, history—helps to invite drinkers who don't consider themselves beer aficionados.
"For me, coming from a wine background, one of the things I saw right away in the beer industry was a simplicity to the pitch: 'Hey, this is cold and delicious and hoppy,'" Dillingham says. "But where can we offer more than that?"
He uses one of Métier's most popular beers, MBC Pale Ale, as an example. The brewery first developed the beer to benefit a local nonprofit, the Major Taylor Organization, which provides bicycles and cycling programs to children in King and Pierce counties, allowing them to better explore their cities. The beer's label art by local artist Damon Brown depicts Major Taylor, the Black cyclist who was world champion in 1899. Sales helped the nonprofit purchase a van to transport those bikes.
"It's identifying a need, a goal, and then tying that to something we're brewing," Dillingham says. "Let's tie this story to this historical figure and this mission to what these kids need."
Not only does the beer tell a story beyond the liquid, but the pale ale recipe itself was brewed to not be overly bitter or too high in ABV, choices meant to endear it to a wide range of drinkers and cycling fans.
However, those intentions to connect to more people depend on making delicious beer, and Métier is doing that. Beyond earning a strong reputation within Seattle's high-quality beer scene, the brewery has won medals at the competitive Washington Beer Awards for its wheat beer, coconut porter, and Belgian golden strong ale.
"They don't specialize in any particular style … so it's hard to call out a single beer that they're known for, but all their beers are solid, and it's a very comfortable, welcoming atmosphere there," says Rachael Engel, head brewer at neighboring Bosk Brew Works, who collaborated with Métier on a rauchbier in 2020. "I've had their beer, and it's all excellent. The community here certainly respects them."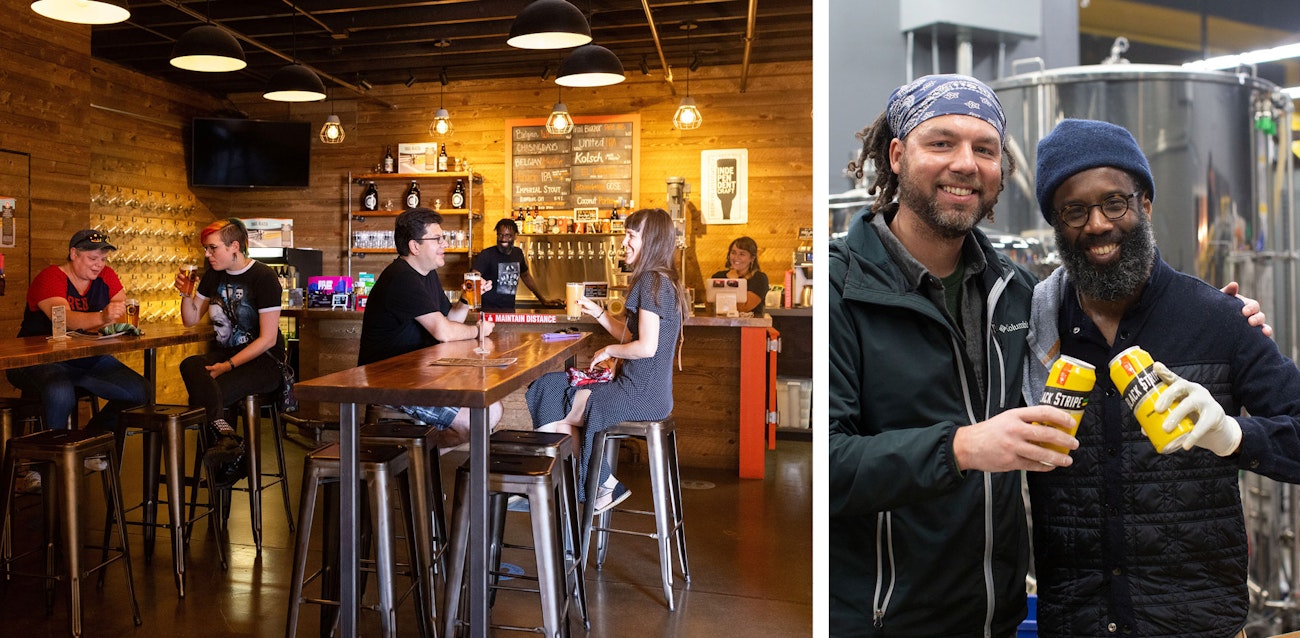 "Build Stronger Communities"
For Hines, who worked for years in the area of corporate citizenship, every business decision is a chance to support other Black-owned businesses and organizations.
The brewery has a Black general contractor, developer, and chef as partners on its Central District location. It has brewed beers in collaboration with area Black-owned businesses, including The Jerk Shack restaurant and Boon Boona Coffee, a roaster that exclusively sources beans from Africa. Its brewpub project with the Mariners is named Steelhead's Alley to honor the Seattle Steelheads, a Negro league baseball team that played in 1946.
Last year, Métier teamed up with Seattle brewery Reuben's Brews to launch the Mosaic State Brewers Collective, a mentorship program to develop the talent and careers of people from underrepresented groups in the brewing industry. At the start of this year, 11 participants in that program began classes through the University of Washington's Foster School of Business. As part of the program, Métier and Reuben's Brews released Lily of the Nile Chicory Stout, a beer designed by the participants. Sales support the program's growth.
Such initiatives may take extra effort, but Hines says that investment also buoys Métier, especially during the difficult times wrought by COVID.
"That was one of the key learnings of the pandemic: 'Oh, we are so not alone,'" Hines says. "There's a lot of love internally across our team and externally for our community to keep us and other businesses thriving."
He says a goal for the business during this year's growth period is to better quantify and evaluate the success of its community programs. So far, he sees the taproom being used as the gathering space he'd envisioned: Last year, it hosted its first baby shower and its first engagement—the latter between two women of color who are regulars at the brewery.
"I think about those types of experiences, and it tells me that in some ways we're unique," Hines says. "But we should not be that unique.
"So, what's our work to help that not be unique for this industry?"