Not so long ago, "barleywine is life" was the claxon of the consummate beer nerd. Beer writer John Palmer called barleywine "the drink of the gods, the intellectual ones, anyway." Since the early days of America's craft-beer renaissance, barleywine has been held in the highest regards for its challenging-yet-refined combination of fruit, spice, deeply malty sweetness, and considerable alcoholic strength.
These traits made barleywines rare quarry—the kind that devotees would line up on a winter morning to score. In recent years, however, their eminence has faded. Barleywine feels lifeless—a stodgy binary of American-style or English-style, with little innovation happening over the past generation.
Stouts, meanwhile, have exploded in popularity. Imperial, barrel-aged, breakfast, and, yes, the pastry-inspired have all captured the drinking public's imagination in ways that barleywine never managed.
Yet brewers have been paying attention, and stout's runaway success has inspired new life in the barleywine category.
Even the gods need to adapt. The latest trend in barrel-aged dark beer is the black barleywine, a hybrid that melds the luscious dark fruit characteristics of barleywine with the silken chocolate-roast depth of imperial stout. Whether brewers are extending boils and adding darker, sweeter malts to barleywines or they are literally blending in barrels of stout, these ebony feats of strength represent a new frontier for barleywines—and one that could restore the provenance of the craft beer's original white whale.
The Birth of a Chimera
Dave Coyne's first black barleywine was a curious mistake.
Coyne, who at the time was barrelmaster at Fort George Brewery in Astoria, Oregon, was simply trying to round out the difference between an American- and an English-style barleywine. He blended one of each and let the combination sit in an Elijah Craig bourbon barrel for 19 months. What came out was a remarkably robust beer, unusually dark in color, popping with the traditional morello cherry and fig notes as well as brown sugar and toffee. He named the perplexing 14.7 percent behemoth Ology, a study in an emergent style.
"Brewing a black barleywine, and not just a really modern, malt-heavy English-style barleywine, is like threading the needle between the two styles," Coyne says. "It reminds me of the black malts of a schwarzbier, where you're not trying to get all that chocolate and bitter coffee flavor. You're just trying to get a little bit of subtle roastiness."
Coyne, who later cofounded Obelisk Beer in Astoria in 2021, says that he plans to more intentionally brew black barleywines in the near future, even as the beer world is still figuring out what the parameters for that subgenre are.
For what it's worth: The term "black barleywine'' isn't new. It's been kicking around at least since the mid-00s when homebrewers noticed the unique combination of words in the BJCP guidelines for Russian imperial stout. The guidelines use that phrase verbatim, specifying how the "dark fruit flavors meld with roasty, burnt, or almost tar-like sensation." And yet, "black" is only just now entering marketing parlance to describe barleywines that adopt key characteristics of stout. There's even some disagreement about the nomenclature, with some breweries opting for "dark barleywine" or even "stoutwine."
"Black barleywine" may have begun to emerge as the dominant nomenclature in 2017, when Deschutes released an experimental beer that would later become Black Mirror—a barrel-aged version of their Mirror Mirror Barleywine that took on the roast and chocolate characteristics of a stout. The beer proudly wore the "black barleywine" moniker en route to a World Class rating on BeerAdvocate.
The next year, Founders revived Nemesis, the black barleywine they first brewed in 2010—a beer that brewmaster Jeremy Kosmicki definitely described as having "less roasted malt than you'd expect in a stout, but just enough to turn the color dark and add another layer of complexity."
Nowadays, Anchorage Brewing's gigantic, double bourbon barrel–aged Wendigo could be considered the standard bearer for black barleywine. Along with Side Project's Continuance series out of St. Louis, Wendigo has set expectations for rich, barrel-aged, high-ABV concoctions that are true occasion beers. Like other barleywines, these are best when warmed to about 50°F (10°C). And, like imperial stouts, they attract interest even among casual taproom customers.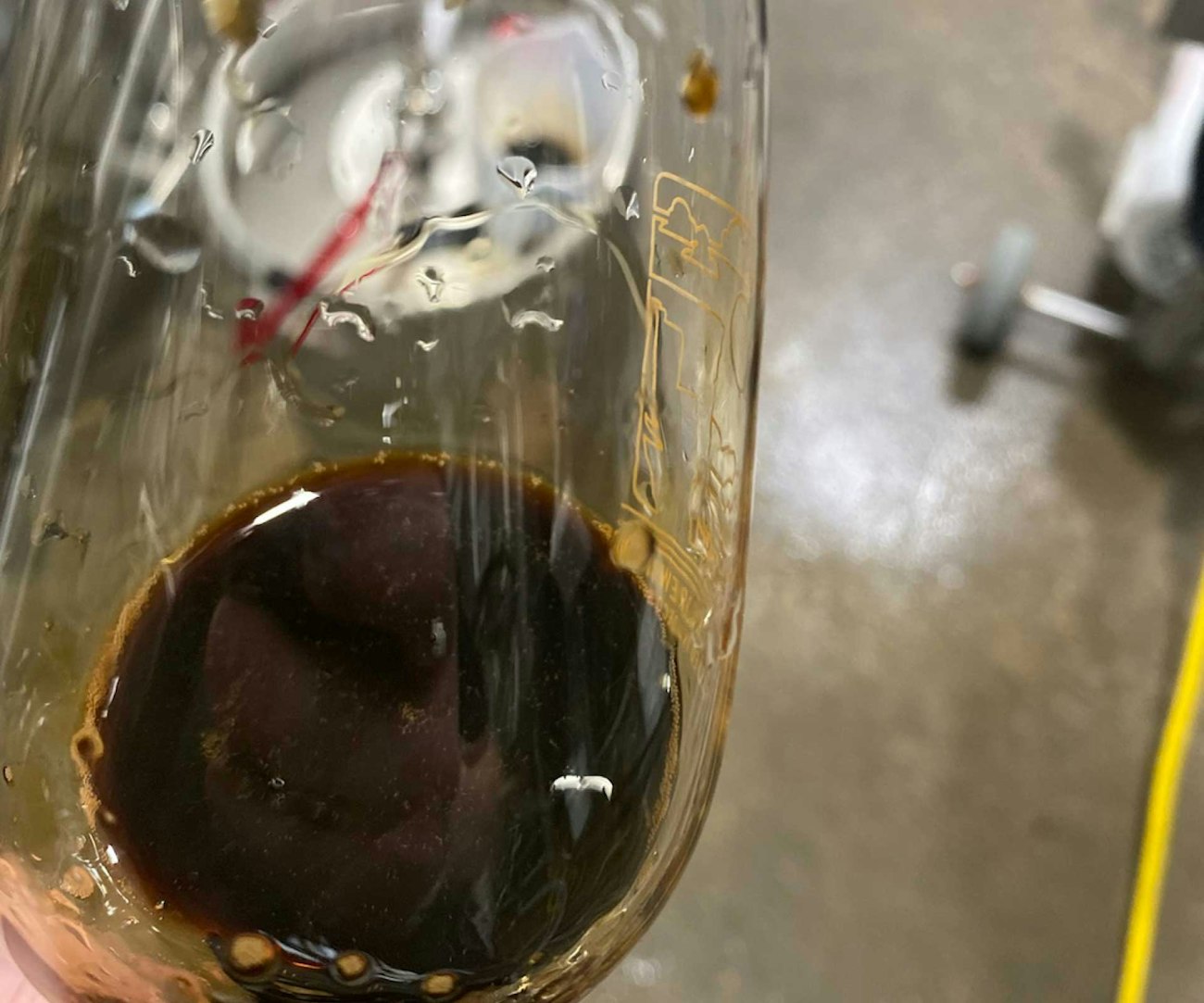 Bill and Boil to Black
At Pulpit Rock in Decorah, Iowa, head brewer Bob Slack first experimented with black barleywine while collaborating with Kyle Harrop of Horus Aged Ales. Their beer was elaborate—a blend of a 36-month aged imperial stout and a 29-month aged barleywine rested on Spanish Marcona almonds and vanilla caviar. What came out was an obsidian elixir with garnet edges called How We Get Along.
"The only thing that we can kind of compare this beer to is Pedro Ximénez Sherry," Slack says. "It's a lot; a little bit goes a long way."
How We Get Along was a rousing success (and at Craft Beer & Brewing Magazine®, one of the Best 20 Beers in 2022). In December, Pulpit Rock released two more black barleywines: How Soon Is Now and How Soon Is Later, each aged for 37 months in Heaven Hill rye barrels. The barrel-aging helps, but Slack and co-head brewer Justin Teff say they consider the malt bill to be of principal importance when making a great black barleywine.
For How We Get Along, they went with an unusually high percentage (16 percent) of Simpsons Double-Roasted Crystal (DRC) malt, which gives the beer its color and those attractive mid-palate flavors. Other breweries, such as Private Press in Santa Cruz, California, and San Francisco's Cellarmaker, go so far as to incorporate chocolate malt. (Cellarmaker head brewer Tim Sciascia recommends about 2 percent.)
"I would avoid going too chocolate-forward and try to get a little bit of that bitterness that you want to balance out the sweetness to come from some black roasted malts," says Coyne at Obelisk. "Use them sparingly enough to get the color, but without going overboard and overpowering all the fruit flavor that you're trying to keep in there."
Gravity also is a key component. Long boils can help produce some extreme starting gravities. At Pulpit Rock, they boiled their barleywine wort for 36 hours, thickening it to a starting gravity of 1.171 (38.4°P). Slack and Teff were able to ferment it down to 1.096 (22.9°P) before racking it into barrels for long aging. They both say a terminal gravity around 1.100 (23.8°P)—a robust starting gravity for many very strong beers—is a sweet spot for these barrel-aged heavyweights. Coyne concurs, saying that the high terminal gravity makes for a fuller-bodied beer coming out of the barrel.
There's nothing in the concept of black barleywine that suggests it must be barrel-aged. However, a long maturation allows the emergence of some dark-sugar flavors. For Pulpit Rock's thicker, sweeter take, some oxidation is critical to the profile.
At Private Press, founder Brad Clark is insistent on a long rest in barrels—preferably bourbon, and ideally a blend of several vintages—to hit the mark on gravity as well as sweetness and color.
"Oxidation plays a large part in darker color hues, unless the brewer is actually putting in black malt," Clark says. "The characteristics of the malts meld well with the barrel and kind of help take that initial barleywine recipe into its next life, post-barrel."
Blending Darknesses
The most alluring part of making a black barleywine may be the blending. Not every example is made from a confluence of barleywine and stout, but it may be the most common and straightforward way to bring together the high notes of each style. However, there is a critical negotiation when you're planning and testing the blend.
At Cellarmaker, Sciascia is imperious in his opinion that a black barleywine must be a barleywine first. Cellarmaker's Black Meridian and Entangled Worlds might feature some prominent coffee and cacao flavors, but the ruby-ish pour and fruit-and-caramel elements will remind you that the beer has the spirit of a traditional, molasses-and-bread barleywine.
"The world of stout needs to see a little bit more barleywine than barleywine needs to see stout," Sciascia says. He calls black barleywine a "bipartisan drink."
"The roastier the dark component, the worse off you're [going to] be," he says. "You've got this really great caramel, toffee, dark fruit. And a little nuance of more milk chocolate and light roast coffee goes along with that better than just coming right in with an edgier flavor, like French-roast coffee."
Bipartisanship doesn't mean a 50/50 split between the two, but there are no hard-and-fast guidelines. Sciascia ballparks some of his black barleywines at about 25 percent imperial stout, though he's made other beers—such as 2021's Blammo!—that invert that ratio.
At Private Press, Clark has gone as low as 60 percent barleywine, but he says he prefers to work without a hard cap on the ratio. It's this undefined territory that most excites him. His Electric Roads, for example, is a blend of three barleywine recipes that sat in Weller, Blanton's, Elijah Craig, Baker's, and 1792 bourbon barrels. He calls the possible combinations of barleywine and stout vintages "staggering"—the kind of undefined territory that could make black barleywine a true sip-in-silence experience.
To get there, Clark isn't worried about breaking rules that haven't been codified, nor is he hung up on what to call this strange, ponderous, obsidian ambrosia that emerges from the barrel and mingles.
"There's so much more to be discovered," he says. "What I've tried to do is just eke out every possibility within this idea and create flavor profiles that are really interesting—maybe not completely new, but definitely a different direction."