SPONSORED CONTENT
It was a blend of passion, energy, and a bit of a rebellious streak that led to the creation of Hop Revolution. Today, it is one of New Zealand's largest independent hop growers, and in its short history it has already challenged traditional thinking and been on the front foot of several innovations for New Zealand varietals.
This year, that appetite for a challenge continues, as Hop Revolution takes on the slightly jaded reputation of pre-mixed hop blends. They've developed two top-quality custom blends—Turkey's Pick and Hop Revolution Blend—and they're encouraging brewers to take a fresh look.
Before we explore those latest innovations, it's worth reviewing Hop Revolution's pedigree for successfully challenging convention, and why the newest entrant to New Zealand hops is a bit different from the rest.
Born from Revolution
"Hop Revolution was born from a real passion for beer and a realization that New Zealand hop varietals hadn't reached their full potential yet," says Hop Revolution cofounder and plant scientist Susan Wheeler. There was so much more flavor to explore, but no one seemed to be doing it."
"There was a real opportunity to work closely with brewers to understand the aromas and flavors that they were searching for—to put brewers in the driver's seat. Our job was to grow and pick the varieties to match those profiles and deliver them into the hands of brewers. We decided to step up to the challenge, to see if we could achieve it, and created Hop Revolution."
Fresh out of the starting gates, they lived up to that founding ethos. Hop Revolution challenged traditional thinking on the pick time of old favorite Nelson Sauvin.
They were first to expand the choice of pick times for the hop. A late pick, which leads to an oily, diesel-like, rubber flavor was pretty much the industry standard at the time. Hop Revolution were first to begin picking some of their Nelson Sauvin earlier, to capture a greater spectrum of flavors for brewers.
As the variety ripens, its sensory characteristics go through a spectrum of aroma from passion fruit, white wine, berry, and black currant through to the old-school, oily diesel profile later on.
"That raised a few eyebrows at the time," Wheeler says. "I think a few growers thought we were a bit nuts, but the feedback was excellent."
For the 2023 harvest, Hop Revolution produced more than 20 different Nelson Sauvin lots across different pick windows and across the two farms that they grow and manage. An individual lot can be as small as one day's harvest. Importantly, smaller brewers have access to the same degree of choice as the bigger players, which is unusual in the industry.
That's something that Wheeler and the Hop Revolution team are particularly proud of. "When we talk with brewers, we encourage them to take a second look at Nelson Sauvin," she says. "They are genuinely surprised at the spectrum of choice available, and that it's so different to what they remember. They're rediscovering it again for their brews, which is really satisfying."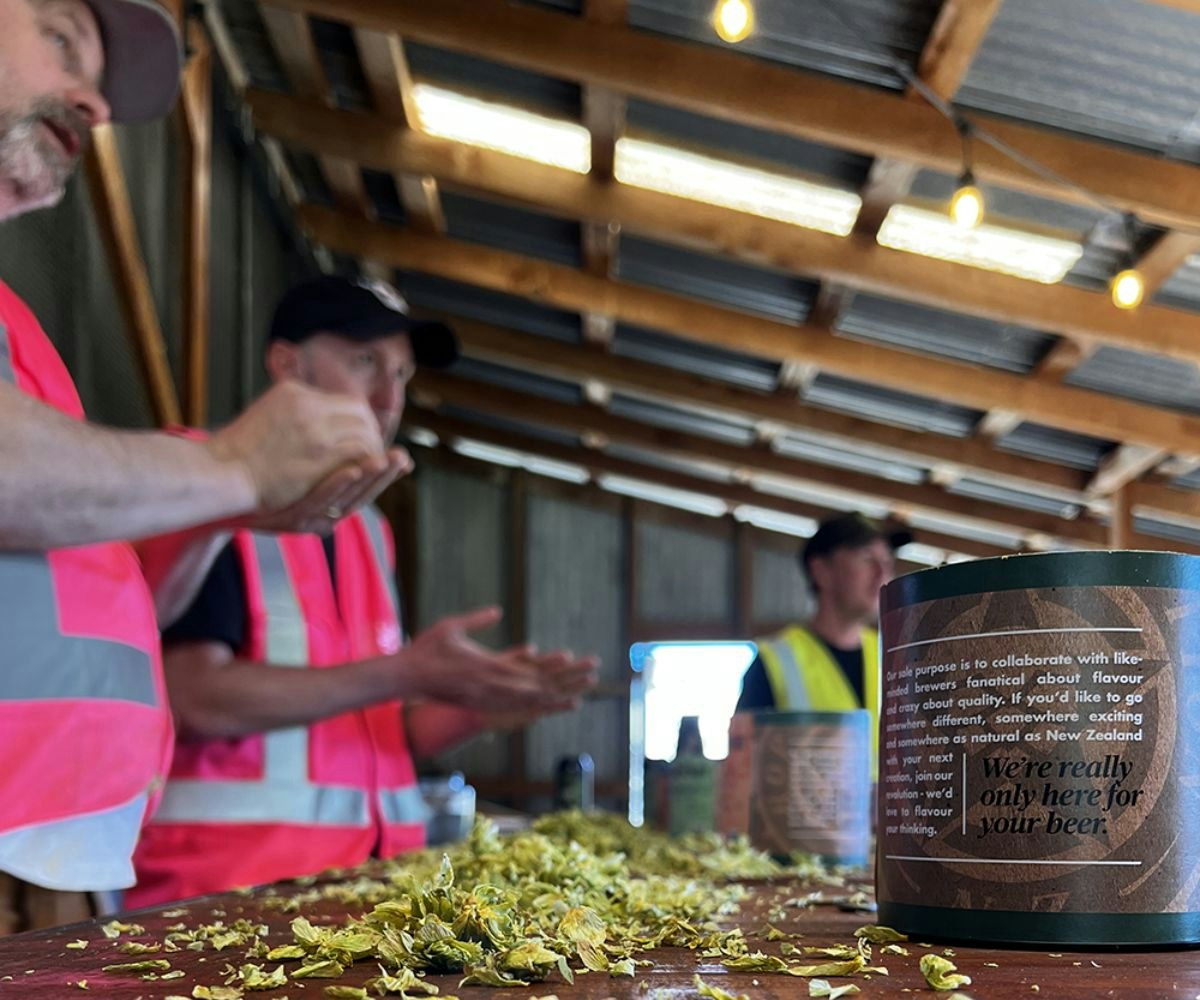 Challenging Convention with New Hop Blends
Hop Revolution are also applying that fresh thinking to the slightly dubious reputation of pre-mixed hop blends.
Previously, brewers have not really taken to them—without knowing what's in the blends, brewers often feel they don't have a solid reference point from which to develop their recipe. As a result, they're cautious about compromising creativity.
Hop Revolution is tackling those old preconceptions head-on with two powerhouse blends: Hop Revolution Blend and Turkey's Pick.
"We are not hiding anything in these blends," Wheeler says. "Brewers will know exactly what's in them, from the varieties, ratios through to the pick time. That gives them a solid and consistent reference point."
"We've also worked directly with craft brewers to select flavors using sensory analysis, and expertly blended them to achieve a balanced ratio for a New Zealand inspired flavour. It can be used on its own or as a base in a recipe—it's up to the brewer."
Sales and marketing manager Elliot Riley says that when developing these blends, the Hop Revolution team had smaller breweries in mind. "For brewers to create a recipe with multiple New Zealand varietals, they would need to buy a minimum of one box of each. For smaller brewers that can be a lot. So, we came up with this idea as kind of a gateway to introduce brewers to the New Zealand flavor in an accessible way."
The Hop Revolution Blend contains a combination of early Motueka, late Nelson Sauvin, Pacific Sunrise, and Riwaka.
Based on its favorable uptake, they've launched a second blend–Turkey's Pick. The goal for Turkey's Pick was to combine the three best individual lots for the varieties Riwaka, Motueka, and Moutere, to create a different style.
Among those endorsing the approach and transparency of these blends is Stan Hieronymus, longtime beer writer and reporter covering the hop industry. "I don't understand why some brewers turn up their noses at blended pellets," he says. "They contain the same opportunity for synergy as any combination brewers may come up with themselves. Of course, it really helps when you know, as with Hop Revolution blends, just what's in that pellet before you use it in a larger blend of your own."
What's Next for Hop Revolution?
So, what's next for the hop grower with a bit of a rebellious streak?
Last year they were first to launch New Zealand varietals in a CGX cryogenic lupulin pellet with U.S. partner Crosby Hops. Motueka, Nelson Sauvin, and Riwaka are already available in T-90 and CGX, with new favourite Pacific Sunrise launching in CGX soon.
Riley shares their next step: "Selected Nelson Sauvin lots from our 2023 harvest are currently being processed into both T-90 and CGX," he says. "This will be the first time that brewers will be able to select the same lots in two different formats, so that they can directly compare performance of both. The lots have been selected from early, mid, and late Nelson Sauvin lots from both farms. We are looking forward to brewers coming back to us with their thoughts on results."
So,the revolution continues—a passion for collaboration and creativity, the commitment to quality, and the unending pursuit of perfection. In Hop Revolution, brewers will still find the same spirit that drives them and the beer community.
Follow Hop Revolution on Instagram @hoprevolution and facebook @hoprevolutionnz
SPONSORED CONTENT