SPONSORED CONTENT
It's easy for breweries to throw around buzzwords like "innovation." It's much harder to build a culture and routine that truly embrace it. Innovation—as both the design and creation of new beers and the continual improvement of existing ones—has been a hallmark of craft beer since its earliest days. With more than three decades of craft brewing under its belt, Deschutes Brewery has always been focused on innovation. But in today's dynamic world of craft beer—where drinkers' thirst for new experiences races alongside brewers' desire to offer them new and boundary-pushing beers—innovation is crucial. Few breweries have made the investment in the team, technology, and time to support the process of innovation like Deschutes has.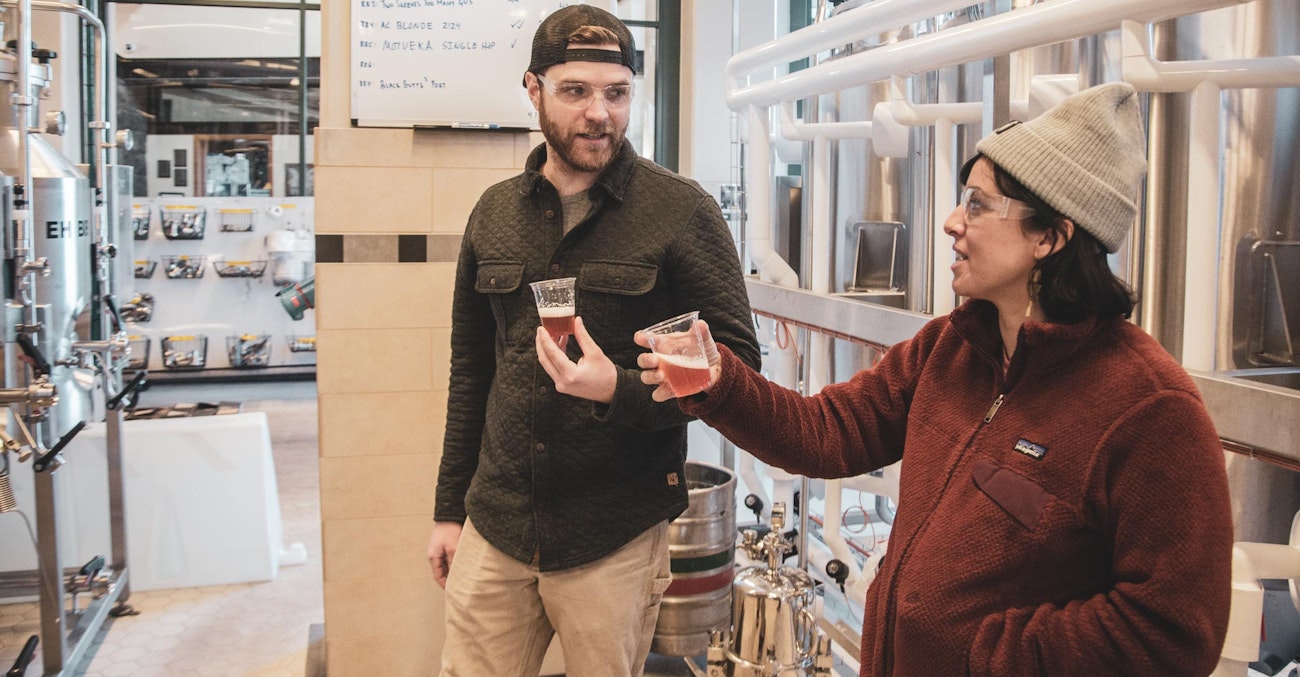 Team
A true dedication to innovation is more than just hiring a brewer to make one-off beers, then seeing what sticks. For Deschutes, innovation is woven throughout the fabric of the brewery; it isn't stuck in its own silo. It's a team-driven process where ideas come from throughout the company, are cultivated and incubated by a dedicated innovation team, and are evaluated and improved by a group that crosses brewery disciplines—from innovation brewing to production brewing, sales and marketing, quality, and more.
Helming the innovation process is Director of Product Development Veronica Vega, a 13-year Deschutes veteran with a background in biology. She has spent the past five years focused on helping the brewery develop and launch exciting new beers like Da Shootz!, Fresh Haze and the critically-acclaimed Wowza! low-calorie IPA. Supporting Vega is the assistant brewmaster for pilot brewing, Kyle Matthias, who serves as the boots on the brewdeck, testing recipe ideas, ingredients, methods, and tweaks.
Together, they form a potent core of the innovation process, turning ideas into test batches, honing and testing both offbeat ideas and small process iterations. Their work is evaluated in a few different ways—through test batches on tap at the employee-only taps of "Shifties," through weekly tasting and evaluation meetings with the cross-discipline innovation team, and also by customers who can try new beers in their formative stages and offer feedback through the taproom at the production brewery.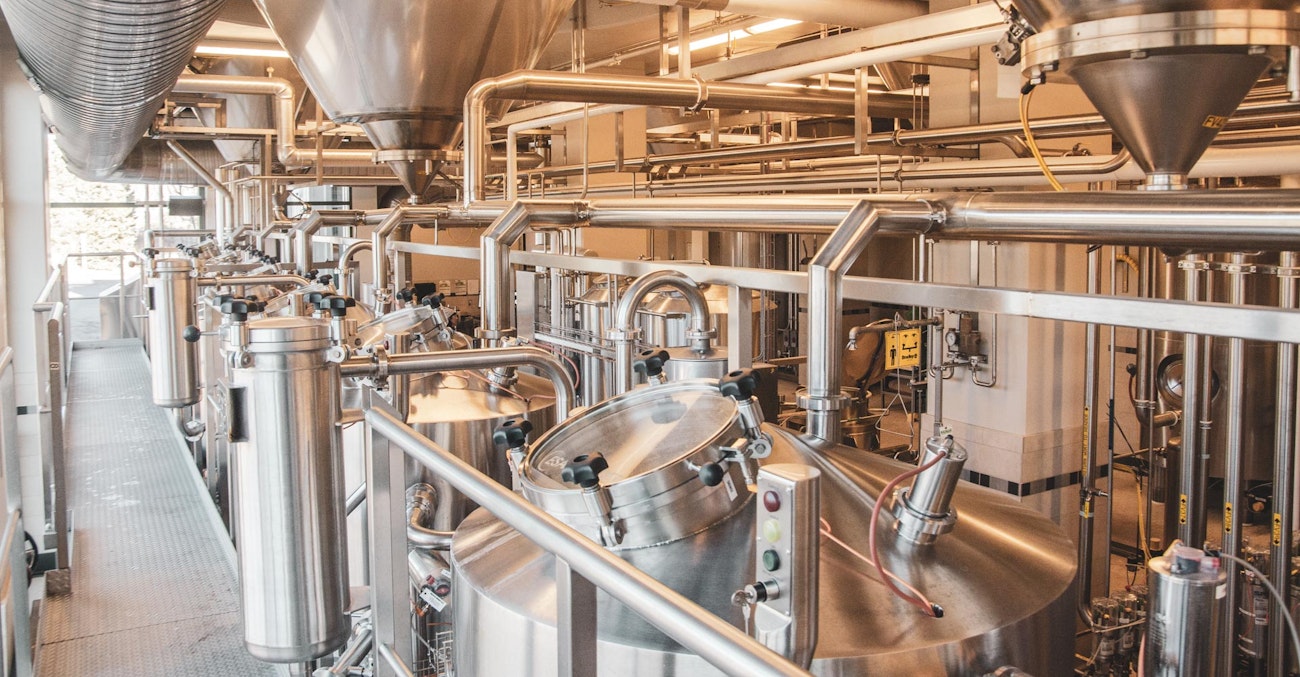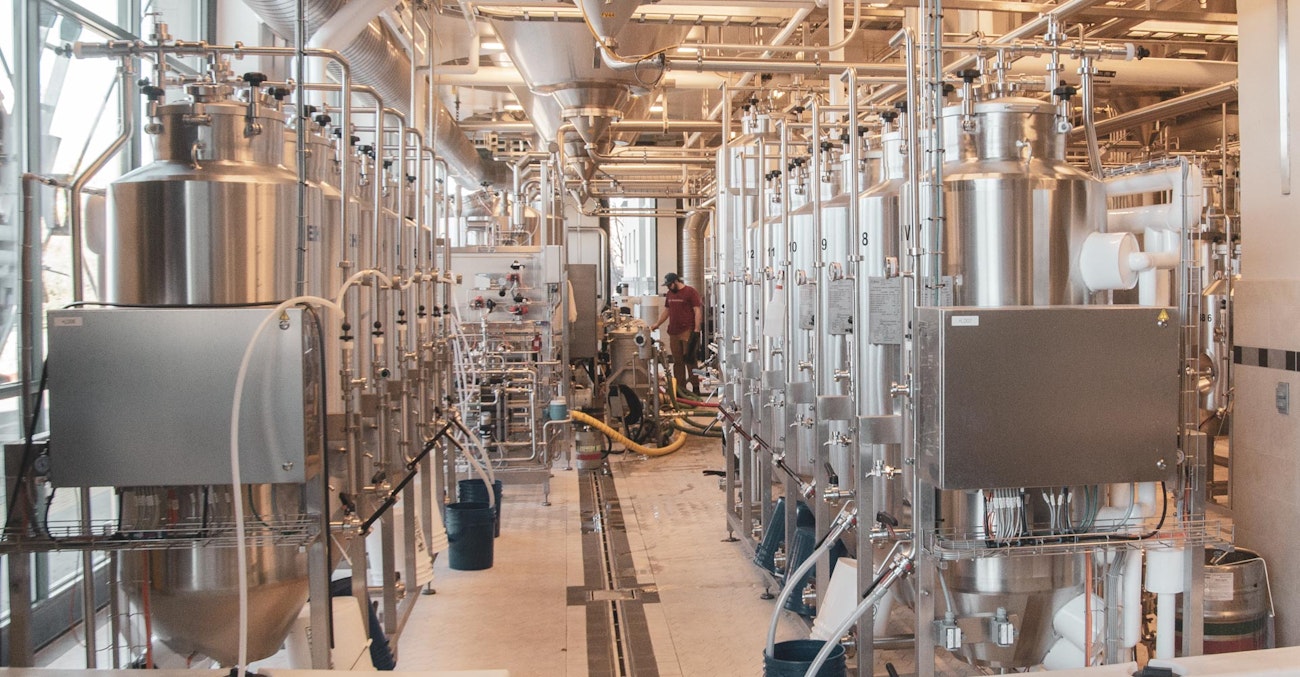 Technology
Innovation requires frequent brewing, but up until a few years ago, the smallest brewhouse on which Deschutes could test batches was a 20-barrel system at one of their pubs in Bend or Portland—and that's a lot of beer for an experiment (roughly 275 cases). So in 2015 and 2016, the brewery purchased and installed one of the most technologically advanced and flexible pilot brewing systems anywhere in the world—a seven-vessel system that allows for a split wort stream (perfect for A/B testing), feeding a cellar of 3.5-barrel fermentors, whose tank geometries are specifically designed to mimic their large-production counterparts.
"From a single mash, we can split the wort into separate boils, and change parameters from there," Matthias says. "Then once they're done fermenting, we can take those beers to our Wednesday innovation panel, try them side-by-side at the same age, get some feedback on both, then decide which direction to take from there."
For those who love brewing gear, it's quite a sight—the seemingly endless brew deck stretches on for an eternity, and the flexibility of the system allows the innovation team to test timing and processes in a way that predictably scales up to their large production brewhouses.
Its location in the brewery is no accident. Adjacent to the main brewery entrance, opposite the taproom and in full view of everyone entering the brewery, it's a very public statement about Deschutes' focus on innovation. Shoehorning a pilot brewery into the space underneath the brewery's cellar block of 10 giant fermenters required significant engineering, but taproom visitors can now enjoy a pint while watching the innovation team at work on the next great batch.
"The system allows us to take risks we wouldn't take otherwise," Matthias says. "We're yielding roughly a barrel to a barrel-and-a-half of finished product, so if we do something we don't like and have to dump it, it's one barrel of beer as opposed to 50 or 150 barrels on our production system.
Time
Any innovation pilot program is only as valuable as the time and resources dedicated to it. Deschutes keeps the pilot system active with an aggressive brew schedule that often sees brewers mashing in three or four times per week. While Matthias doesn't brew every batch himself—sharing wort-production duties with other brewers—he is constantly watching the evolving results of the brewing experiments as they develop in the cellar.
Another place where time plays an important role in innovation is with the Deschutes wood cellar, under the guidance of Ben Kehs, assistant brewmaster of the barrel program. For the beers in Ben's domain, time is the not just a luxury but a requirement. Responsible for large-production releases of barrel-aged beers like The Abyss, Kehs wrangles several hundred barrels at any given time while planning and executing small-scale releases for the Deschutes Reserve Club.
It's unusual for a brewery the size of Deschutes to operate a small club producing extremely limited batches (as few as 21 cases of many of the releases). But for Deschutes, the process of learning from this small-scale innovation while rewarding their most fervent fans with limited-edition beers is worth the considerable investment.
"We had always talked about doing single-cask beers but never had a reasonable way to make and sell them," Kehs says. "Now, with the pilot system and the club, we have a way to handle it with a high degree of quality and consistency."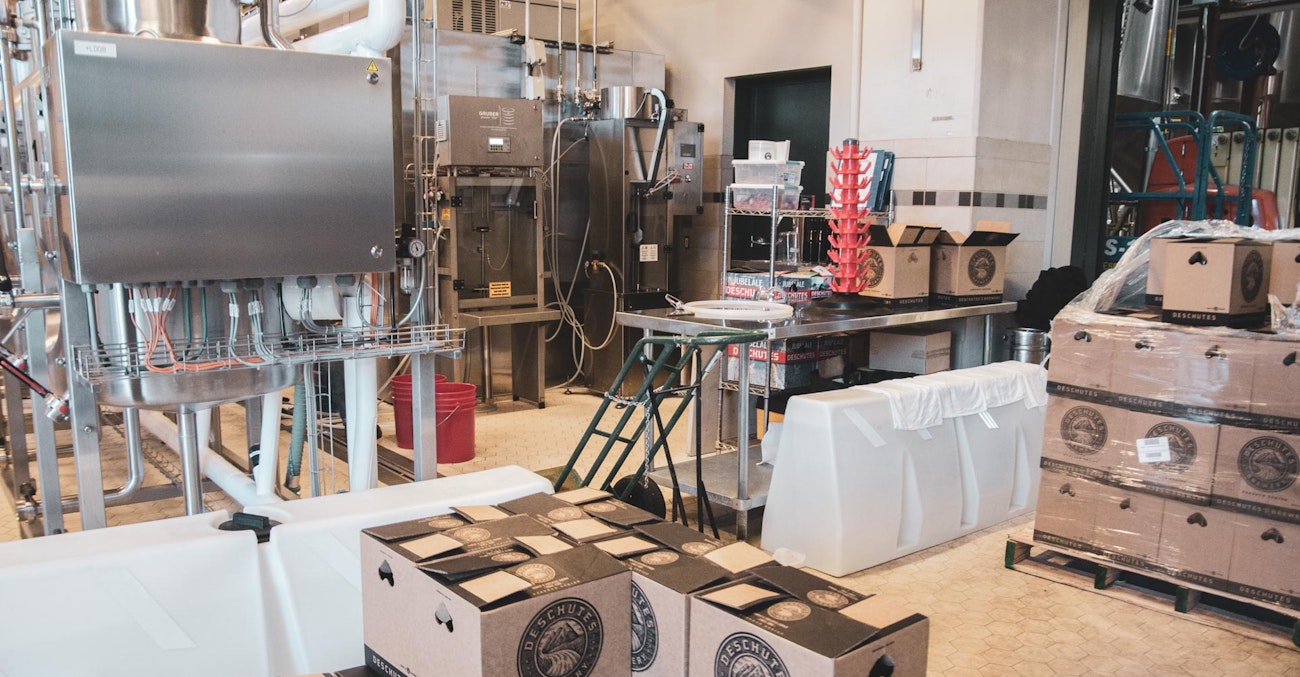 For those small-scale releases, Deschutes invested in a single bottle filler and a manual capper. If you happen to visit the brewery on the right day, you'll find Kehs himself filling, capping, and loading cases of bottles. The brewery may have automated packaging lines capable of turning out hundreds of cans or bottles per minute, but the brewery remains hands-on with these small projects, never forgetting their roots and the artisan drive behind them.
Trials
Testing brewing variables head-to-head has proven to be an invaluable tool for the innovation team. While most other breweries (large or small) generally have to rely on memory and tasting notes from prior batches when evaluating new tweaks to a recipe or process, the small-scale and split-batch ability of Deschutes' system allows real-time, head-to-head sampling and evaluation. Whether it's hops timing in the boil, whirlpool temperatures, yeast parameters in fermentation, or any number of other variables, Deschutes now has the ability to not just test ideas but taste the results side by side, making direct decisions without having to rely on notes.
One such test earlier this year produced actionable results despite an apparently small change. With the hazy double IPA Bulk pHaze, they wanted to see how small changes in pH affect mouthfeel in hazy IPAs. So they split one wort into two boils, with only a 0.2 pH difference between the two.
"The result was really noticeable when tasting them next to each other," Kehs says. "I don't think we would have recognized that if we didn't taste them that way. It allowed us to make the beer better."
No one knows what the future of craft beer holds, nor whether experimentation will continue to be such a dominant trend in craft beer. But whether new beer development remains important, or innovation shifts to a focus on incremental improvement in core favorites, Deschutes is positioned to lead.
"This program gives us the people, equipment, and resources we need to create exciting new beers," Vega says, "and to make sure the favorite beers our fans love stay the best they can possibly be."
SPONSORED CONTENT