New Belgium La Folie 2018
(Fort Collins, Colorado)
In tasting beers for the upcoming wood-aged beer issue, our blind-review panel considered this beautiful evolution of New Belgium's groundbreaking sour-beer program and was taken aback at the deep complexity that the rich malt provides this bellwether of American sour beer. The arc that La Folie has followed, from corked-and-caged and bottle-conditioned 750s to pasteurized and capped 22 oz bottles and now back to corked-and-caged and bottle-conditioned 375s, is an interesting one, and this new vintage feels like a homecoming in many ways—one, though, that's informed by all the life experience they've gained along the way.
In an era where most brewers and consumers have skewed toward pale and golden sours, La Folie 2018 is a reminder that malt matters, and the dark currant and dried-cherry notes from the fermentation perfectly complement the toasty bread crust and mocha coffee of the malt. The result is a beer that's earthy yet crisp, with a bright acidity and lingering notes of tart fruit and woodsy funk. The blend is masterful, as always, and the living beer should continue to develop in interesting ways for a few years to come.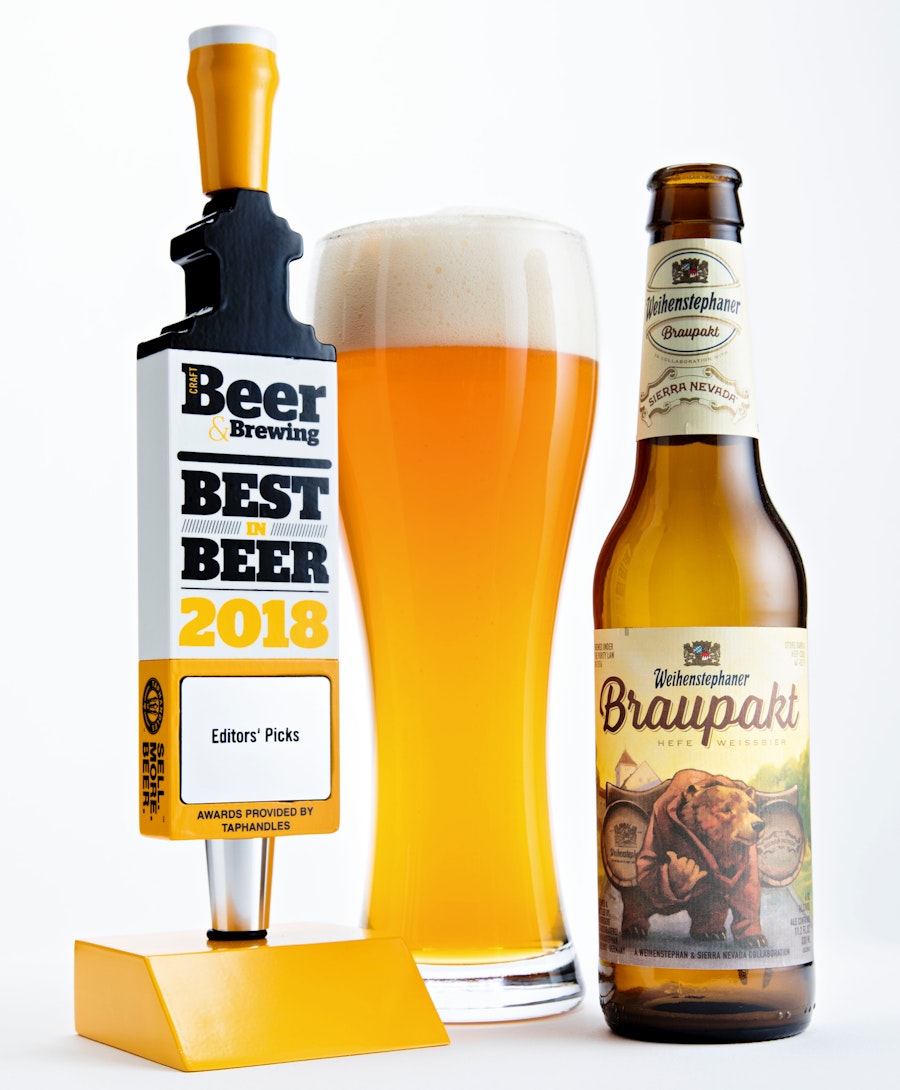 Weihenstephaner and Sierra Nevada Braupakt
(Freising, Germany)
When two of the world's best breweries get together for a collaboration, there's an unbelievable amount of pressure to score a perfect 10. In the case of Braupakt, a hefeweizen made by Weihenstephaner and Sierra Nevada Brewing Co. that was released earlier this year as a limited offering, the needle was pushed to 11. German precision and American inventiveness brought forth this sublime hefeweizen that, yes, offers up the notes of banana and clove that we'd expect, but also adds in touches of warm ripe orange, dried apricot, and fresh white peach. A dosing of Chinook adds slight bitterness and grapefruit, bringing together all the flavors into an almost creamy mouthfeel and a desire to order another liter and Prost! with friends.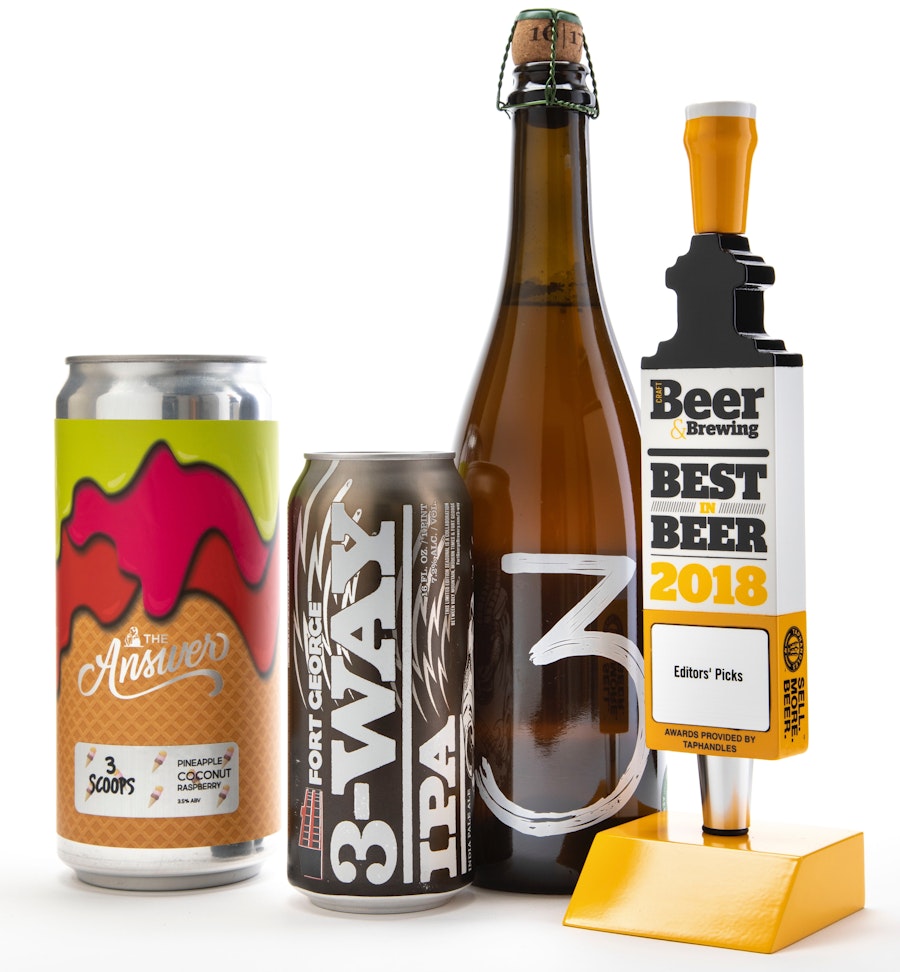 The Answer Brewpub 3 Scoops
(Richmond, Virginia)
If you talked to any group of brewers in 2018, it was hard to avoid the conversation about unfermented fruit in beer—a conversation started, primarily, by Richmond's The Answer Brewpub. While The Answer has been unapologetic about their approach, going so far as to design crowler labels that look like bombs with a ticking timer on them to underscore the "drink fresh, keep cold" message, to other brewers, this approach is an anathema. The Answer Brewpub is the Andrew W.K. of breweries, encouraging patrons to forget strictures and convention and just party. Fun, not fussy. Over-the-top, not nuanced. Turned up to 11.
Still, there's something oddly compelling about these in-your-face sour fruit beers that push the legal limits of fruit content and require refrigeration lest the crowlers burst their seams. The intensity of flavor is undeniable. The beers convey exactly what they promise on the label description. And when you consider them as beverages, without expectations for what beer should be, they deliver a surprisingly complex blend of intense fruit flavors. They expand the idea of what beer can be, and for that, they're worth recognition.
3 Fonteinen Oude Geuze Cuvée Armand & Gaston
(Lot, Belgium)
With lambic brewing and blending, time is as much an ingredient as terroir, and Cuvée Armand & Gaston was a long time coming for one of Belgium's leading lambic producers. This "new" oude gueuze differs from their regular oude gueuze in that all of the component lambics are brewed by 3 Fonteinen themselves, rather than being a blend of lambic sourced from other lambic brewers. While the "standard" Oude Geuze is itself a revelation (previous vintages have scored a 99 with our blind-review panel), Cuvée Armand & Gaston refines and redirects that blending energy into something more singular that expresses all of the complex funk one expects from a gueuze but with a light lemony citrus and peach note that is inimitable. It is understated and self-assured, with a tame acidity and a touch of caramel-malt beer character that's refreshing. No rough edges, just a perfect sip from start to finish.
Fort George Brewery 3-Way IPA
(Astoria, Oregon)
It's year six for this rotating yearly collaboration IPA from Oregon Coast powerhouse Fort George, and the 2018 edition lived up to the high expectations set by all of the prior editions. The beer name explains the concept—three breweries collaborate on an IPA, which is then brewed not just as a one-off batch but as a major production brew for the brewery from the home of The Goonies. The process is intense, as collab beers go—seven or eight test batches on the 10 hl pub system at Fort George are typical before they push it into full-scale production, and by the end of 3-Way season, Fort George produces more than 3,000 bbls of it—a larger amount of beer than some of their collaboration partners produce in an entire year.
With that in mind, the beers themselves have been remarkable. The 2016 edition with Melvin and Barley Brown's was the fruit-forward and dank West Coast IPA you'd expect from those players; 2017 brought the haze with Great Notion and Reuben's Brews' riff on Citra-forward softness; and 2018's entry with Modern Times and Holy Mountain pushes kiwi and lychee fruit over a bed of resinous pine and a refreshing bitterness that sneaks through to clear the palate in the softest and most gentle way. It's the beer you'd stand in line for, if you had to stand in line, but you don't because they make plenty of it.
von Trapp Brewing Oktoberfest
(Stowe, Vermont)
Following the installation of a brand new starte-of-the-art brewhouse in Stowe, Vermont, a few years ago, the brewers at von Trapp have been turning out high-caliber lagers in the Old World tradition—unadorned, unfussy, built for drinking en masse and gathering with friends. Their Oktoberfest, a style that is often made but doesn't always hits all the right notes, makes us wish it was late September all year long. A blend of dark and light Munich malts gives toffee and caramel flavors that hit on the first sip and stay through until the end, mingling with the Tettnang and Hallertau hops that give a slight melon, full floral, and just a little spicy kick to the overall lager. Vermont calls to a lot of beer travelers, thanks to its IPAs, barrel-aged ales, and quite a few stouts. This lager brewery should be on everyone's list as well because to fully appreciate all that beer has to offer today, we need to taste the classics. 
Suarez Family Brewery Palatine Pils
(Livingston, New York)
Great beer takes time to make...and to pour as well. Dan Suarez, the brewer behind the namesake brewery, cares about the time it takes to make beer right, and it shows with everything they make, including this Pilsner, which isn't released until he says it's ready.
When it's ready to serve, they take their time pouring at the brewery, serving each glass with a cloud of puffy foam rising above the rim. It's so appealing that it's almost a shame to drink it, but oh, when you do, it sparkles. Palantine is among the finest small-batch German-style Pilsners being made in America today. Unfiltered but golden, clear, and bright, it has none of the bells and whistles–such as overhopping–that many folks tend to do when making the style today. Its greatness is its simplicity and the ability to let all of the ingredients shine equally. On draft at a local bar or from a can on your back porch, it's the embodiment of quality, consistency, and commitment to brewing's past and present. 
Anchorage Brewing A Deal With The Devil Double Oaked 2017
(Anchorage, Alaska)
Whenever Anchorage releases A Deal With The Devil, it's a big deal. It was for us in 2015, when Batch 2 (aged in cognac barrels) scored a perfect 100 with our blind-review panel, and now in 2018, their fourth batch of this impeccably pedigreed barleywine is again turning heads. This time around, Anchorage Founder Gabe Fletcher released not one but six variants, in a collectible box set that caught fire in the beer-trading world, but our favorite of the bunch was also one of the least rare—the Double Oaked version, aged for ten months in cognac barrels then another five months in Woodford Reserve bourbon barrels.
The flavors are both intense yet superbly integrated, with the rich caramel, molasses, and burnt-sugar base you'd expect from a barleywine, but none of the vegetal or dry-wood character one might suspect from a beer that's spent this much time in oak. The sweetness perfectly balances the alcohol content for a richly endearing experience that's warming yet somehow not cloying. At 17 percent ABV, it's dangerously smooth and imminently drinkable (read: not hot)—a testament to Fletcher's deft hand in making bold statements.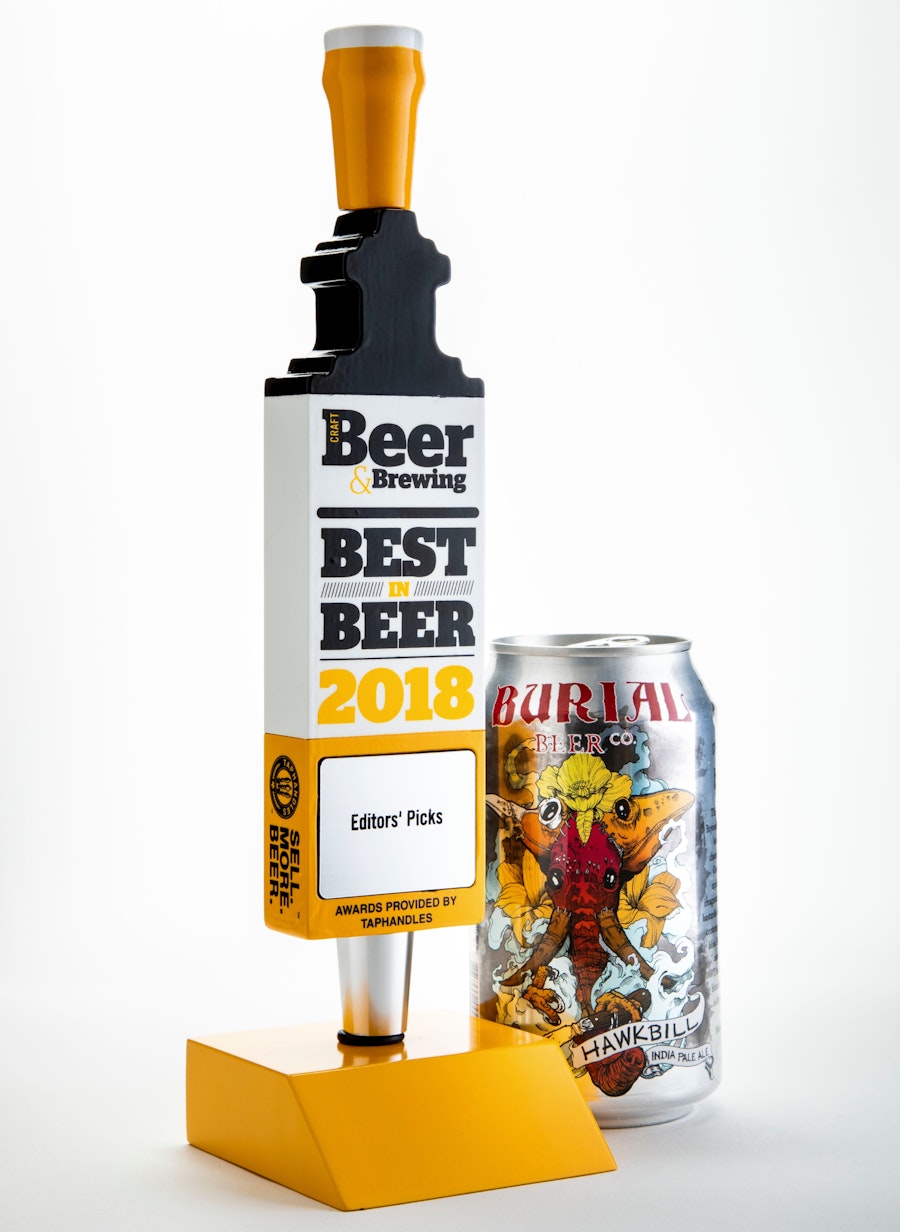 Burial Beer Hawkbill IPA
(Asheville, North Carolina)
Our annual IPA issue is the toughest competition we see all year, as hundreds of breweries vie for attention in the most-sold style in craft beer. So when our blind-review panel of judges awards a beer the top score in the coveted IPA category, we have to take notice. Burial accomplished that this year with Hawkbill IPA, a hazy juice bomb of tropical fruit–flavored awesomeness that our panel described as "everything a good New England–style IPA should be."
If you look back at the 2017 edition of this Best in Beer list, you'll find Burial's Billows Kölsch on the list. Achieving year-on-year appearances in our Editors' Picks is no small feat, and doing so in two completely different styles makes that even more significant.
Austin Beer Garden Brewery Industry Pils, Velvet Revolution, and Rocket 100
(Austin, Texas)
Let's call it like it is—Amos and Swifty at ABGB are Pilsner rock stars, having won five gold medals in three different Pilsner categories (American-style, German-style, and Bohemian-style) over the past four years at the Great American Beer Festival (and large brewpub of the year honors for the past three straight years). There's a light-up sign over the stage in the indoor beer garden that reads "Pils!Pils!Pils!," so it's pretty clear just how deep their love is for Pilsners.
They do it by defying expectations for how the beers are made—they don't decoct, and they ferment in vertical conicals rather than horizontal lager tanks—yet still, their Pilsners capture the nuances of the styles, from the soft attack, building bitterness, and crisp finish of Industry Pils to the gorgeous New School Pils approach of Rocket 100 and the gentle noble expression of Velvet Revolution.
We'll never forget our experience there this year—sitting under the trees in the outdoor beer garden drinking all three Pils with brewer friends, marveling at how perfect those beers were at disappearing behind great conversation, exactly as intended, because not a single thing was out of place.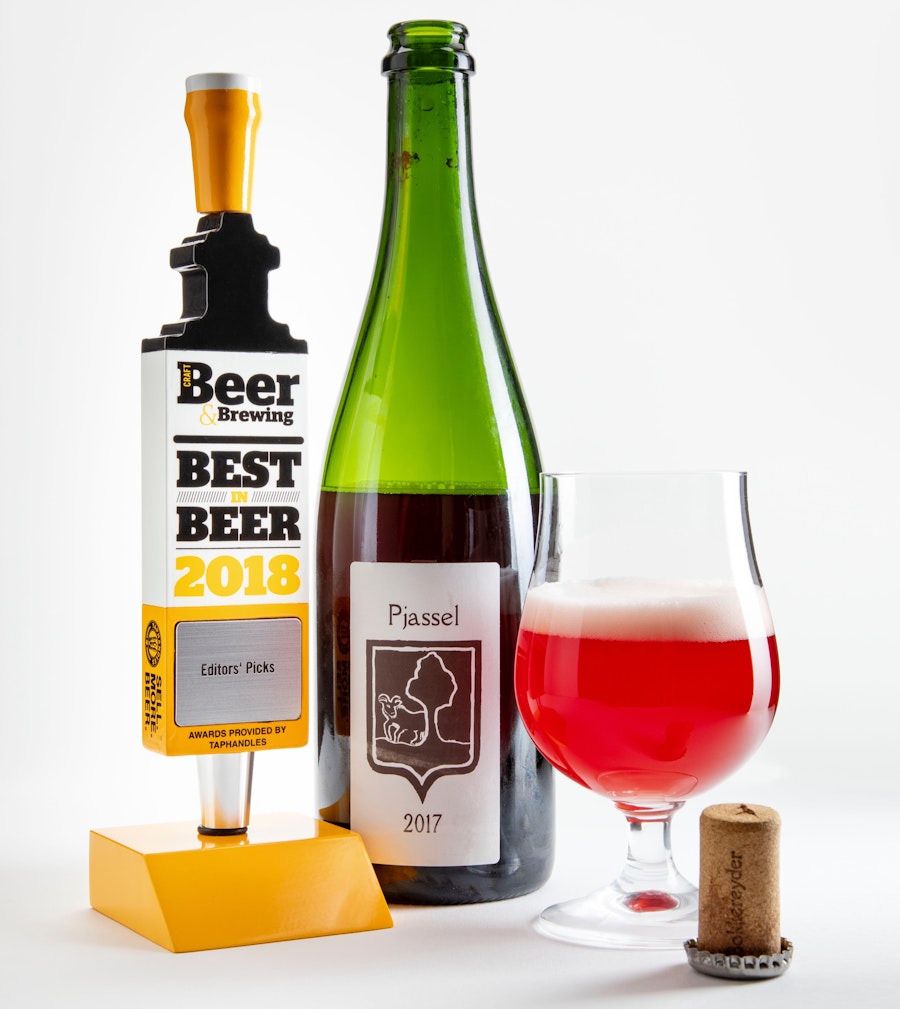 Bokkereyder Pjassel
(Hasselt, Belgium)
New developments in the world of lambic are hard to come by—the small community of brewers and blenders is a creature of tradition, and change happens at a glacial pace. But renewed interest in the traditionally spontaneously fermented ale has, over the past five years, sparked the appearance of new names in the once rarified world. One of the brightest is Raf Souvreyns of Bokkereyder, based about an hour northeast of Brussels in Hasselt. His lambic is sourced from three of the bigger traditional brewers, but his focus on intense fruit character and techniques borrowed from the wine world set apart his special vision for spontaneous beer. Pjassel is a fantastic example of that approach in that it uses red-fleshed vineyard peaches over a long maceration to produce a beer that's both visually stunning and curiously unique. The peach notes are singularly intense—round with a hint of strawberry and lemon on the nose, rich and luxurious on the palate with the silky mouthfeel of a nice cabernet. It benefits greatly from a bit of decanting and service at cellar temperature—as it opens and warms, the subtle mineral funk shines through the jammy fruit and reminds you that this is lambic, after all.
Alvarado Street Contains No Juice
(Salinas, California)
We've had the pleasure of trying a number of Alvarado Street IPAs, double IPAs, and triple IPAs so far this year—everything from Riot Punch double IPA (which scored a 97 with our blind-review judges) to Countach, Mai Tai IPA, Vengeful Barbarian, Playa Del Dauv, and more. In aggregate, we couldn't be more excited about the hops-forward beers this Central Coast upstart is releasing (and they do a pretty mean Pilsner, as well as a bunch of interesting wild and mixed-fermentation beers under their Yeast of Eden brewery).
Contains No Juice was, in fact, the first beer we had from Alvarado Street (back at the 2016 Great American Beer Festival) and the beer that put them on our radar. Today, the Saccharomyces Trois–fermented hazy IPA explores all that one would expect in Citra-Mosaic-Galaxy territory, with a substantial body and creamy mouthfeel that amplifies the oh-so-expressive yeast character.
The Contains No Juice recipe can be found here.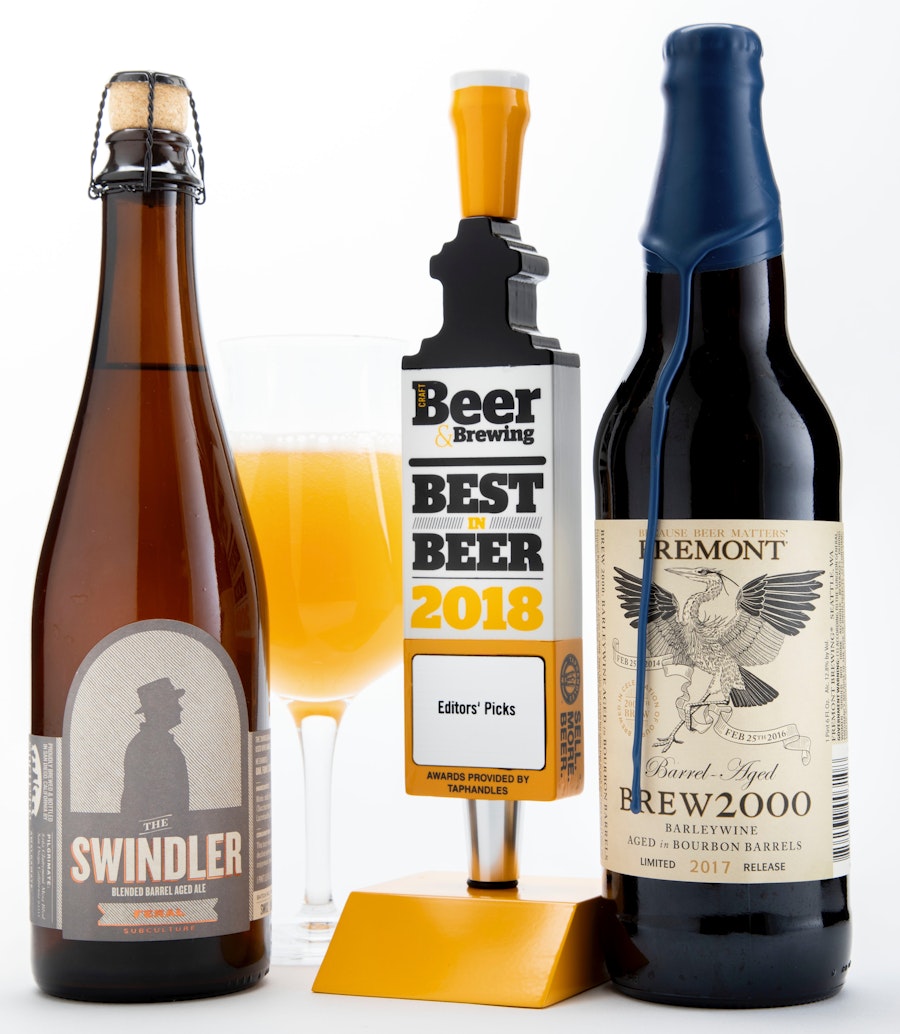 Fremont Brewing Brew 2000
(Seattle, Washington)
Few breweries of Fremont's scale put the time and energy into barrel aging world-class beer the way Fremont does. Stouts such as Bourbon Barrel-Aged Dark Star and Rusty Nail, along with winter ale Bourbon Barrel-Aged B-Bomb, are some of our cold- weather go-to beers that hit the perfect note when we're looking for that cozy hygge feeling that only a warming, high-alcohol beer can provide.
Brew 2000 takes that one step beyond, like a well-worn leather armchair, enveloping you in shimmering waves of tobacco, toffee candy, baseball mitt, and praline, all with a clean and concise structure that somehow avoids cloying. Alex suggested it, and we agree—if you're seeking to live your best life, seek out Brew 2000. It is one of the best expressions of life that we've found.
Societe The Swindler
(San Diego, California)
There's no shortage of wild ales on the market today. We've come to accept there will be an acidic quality, bits of funk, and general effervescence that piques the interest of our tastebuds. So when a beer such as the Swindler comes along, what with its perfect balance and delicate yet powerful flavors from time spent in California wine barrels, we can't help but raise an eyebrow in admiration as a big, happy grin spreads across our face. The Brettanomyces is more funk than barnyard, and the carbonation is so robust that you could think it's a glass of champagne. Each tiny bubble brings to the surface bright lemon, a variety of herbs, and a sweet, earthy, vanilla note. A splash of bracing acidity at the end of each swallow gets the salivary glands working double time and the brain clamoring for another sip. The swindle here is that if you're with a group, there's never enough to go around.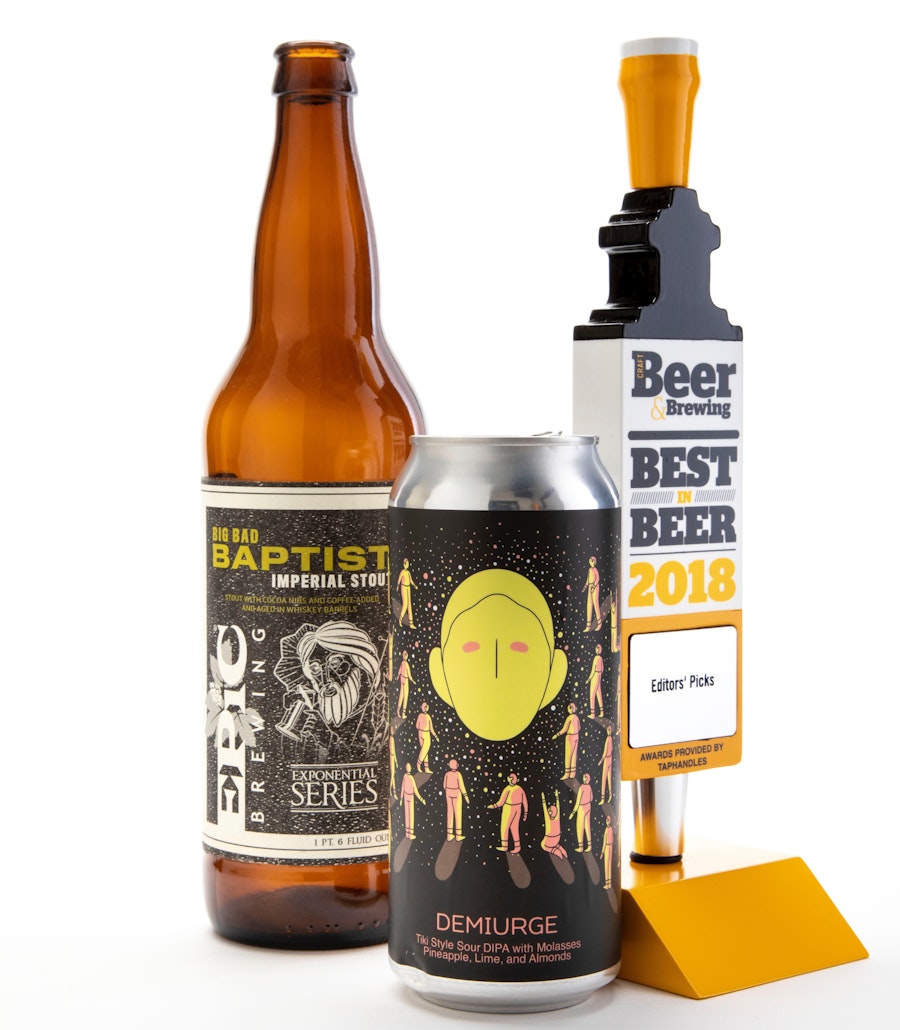 Hudson Valley Brewery Demiurge
(Beacon, New York)
The concept of "sour IPA" is an undeniably strange one. We've had an admittedly difficult time wrapping our collective heads around this evolving style but have come to grips with the fact that certain sectors of the industry will call just about anything "IPA" in order to signify both the presence of hops and your license to drink it.
All cynicism around styles and names fades with the first sip of Hudson Valley's Demiurge, as the rich and real almond notes on the nose draw you in to this mai tai cocktail–inspired sour double IPA. The first sip brings a bolt of pineapple and lime acidity that are tempered by the soft and pillowy mouthfeel. The remarkable complexity belies a quality and intensity of ingredients that is not often found in beers of this genre. It's easy to get lost in the corners of the beer, as you chase down those familiar-yet-enigmatic notes that demand explanation but defy description. It's bright and soft, as you'd expect, with a creaminess that's comforting and takes the edge off of the acidity. A touch of bitterness creeps into the finish to clear your palate for the next sip, and there's no doubt at all that there will be a next sip because once Demiurge grasps you, it doesn't let go.
Epic Brewing Big Bad Baptist
(Denver, Colorado, and Salt Lake City, Utah)
The temptation in any "best" list is to focus on the rarest, most hard-to-find beers, but we find it equally important to celebrate those beers that achieve the same expression of quality without the scarcity. Big Bad Baptist is one of those beers, one that our blind-review judges have rated a 99, yet it's generally available on store shelves without the pomp and circumstance that surrounds other hyped releases.
We're continually taken aback at the creative use of coffee in the beer, and maintaining those flavors in a shelf-stable beer without degradation is an impressive technical feat. But what really sets it apart is the absolutely perfect balance of barrel character, coffee roast, chocolate maltiness, dark malt acidity, and clean fermentation. So many moving parts come together in a cohesively creamy and smooth whole—it's a wonder that bombers can be had for a mere $12.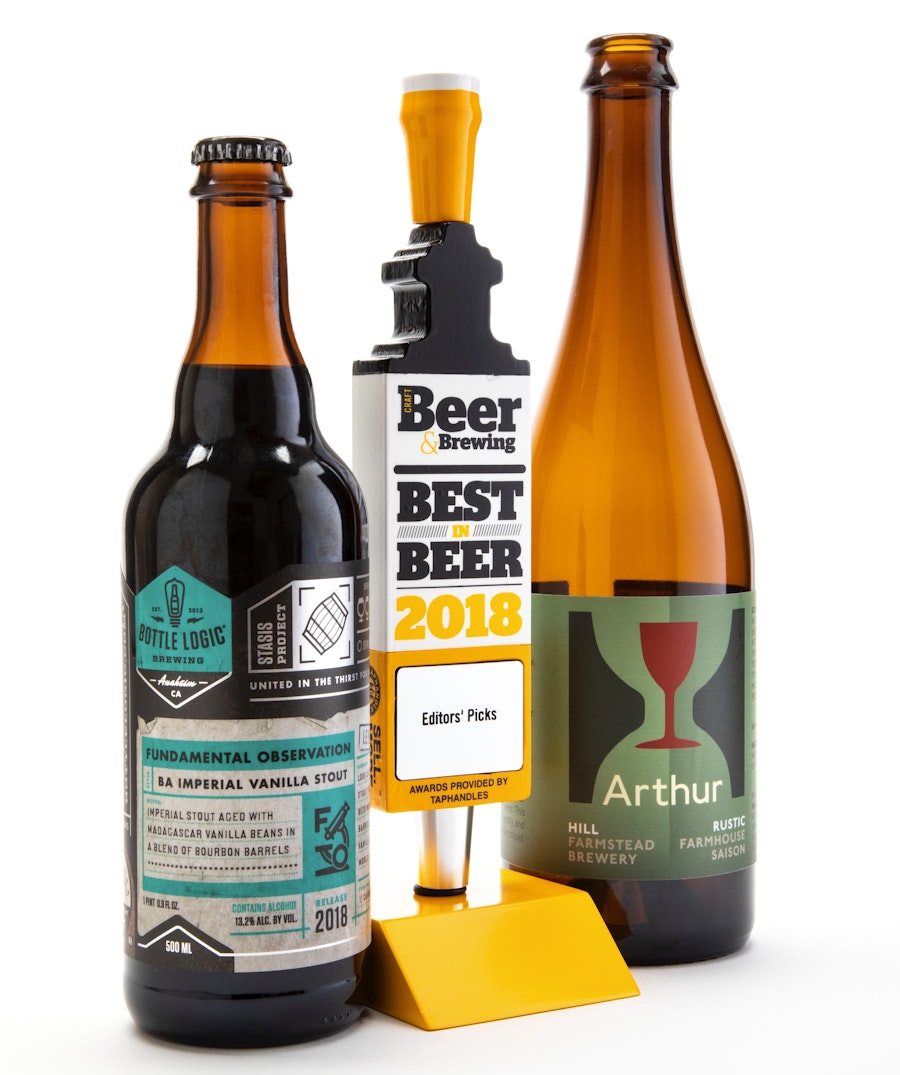 Bottle Logic Brewing Fundamental Observation
(Anaheim, California)
The prolific output of Bottle Logic barrel-aged releases can be exhausting for us to keep up with. It seems like only yesterday that the first edition of this vanilla-infused barrel-aged imperial stout appeared on the scene, and now they're four batches deep with a few adjacent riffs on it as well (Fundamental Forces, Fundamental Summation). While some batch-to-batch variation is inevitable, due to both barrel availability and vanilla supplies, the brewers have maintained a significant level of quality with Fundamental Observation, and the intense vanilla experience is one that we always look forward to.
The latest release, batch four, leads with a bit of oily orange-peel bitterness on the nose, which gives way to an earthy vanilla note. The sip is marshmallows and Dr. Pepper up front, supported by a body that's smooth and luxurious but not motor-oil sludge. It's sweet, but not cloying, with just the perfect touch to highlight and amplify the vanilla experience. As it finishes, roast bitterness begins to build, clearing the palate for the next sip. The experience feels indulgent, but they've tightly edited the experience to keep the plot line moving, and you never feel stuck.
Hill Farmstead Arthur
(Greensboro Bend, Vermont)
It's hard to imagine a more perfect beer than Hill Farmstead Arthur. This mixed-fermentation farmstead ale offers rustic complexity, gorgeous Brett yeast funk, a light lemony tartness, a touch of woodsy earthiness, and an engaging effervescence for a lively mouthfeel—all at a drinkable 6 percent ABV. Like Side Project Bière du Pays or Sante Adairius Saison Bernice, it sits in that perfect sweet spot for mixed-fermentation beers—not aggressively acidic with only a light lactic note, refreshing and fruity Brett character, more body than one would expect from a beer of this style, and refreshingly satisfying in casual drinking occasions.
On a warm Sunday afternoon, it's a beautiful beer to share with a friend or two, as the bright citrus notes push forward only to be reined in by a touch of Brett bitterness. Best of all, the low price point of the beer puts an exclamation point on accessibility—if craft beer is an affordable luxury, Hill Farmstead Arthur should be its poster child.