At one point in history, all beer was sour, but for the past century of brewing, Belgium has been the primary locus for spontaneously fermented beers. To answer changing tastes, Belgian brewers have a long-established history of adding fruit to their lambics—a history and tradition brewers are now drawing on as they explore new fruits and more intense fruit flavors. Charles D. Cook talked to five respected Belgian brewers and blenders—Timmermans, Tilquin, Oud Beersel, Drie Fonteinen, and Cantillon—about these new approaches to fruited lambics, developed to meet the rising demand for these sour brews.
Belgium's fruit lambics—produced mainly in Brussels and the Payottenland, to the south and west of the city—are some of the most sought-after sour beers on the planet. Bottles that beer drinkers once overlooked now sell out in minutes, and the amount of money beer aficionados will spend and the effort to which they will go to obtain these rare brews never cease to amaze.
The Belgian lambic breweries and blenders have noticed the dramatic rise in popularity of traditional lambic beers and other sour brews. Here, we look at new approaches five of those highly coveted breweries and blenderies are taking to this traditional style.
Brouwerij Timmermans
Brouwerij Timmermans, of Itterbeek, Flemish Brabant, was founded in 1702, and the current brewhouse dates to the late 1940s. The polished copper kettles and other vessels are a sight to see—Timmermans is a working museum.
Timmermans became serious about an artisanal lambic program in 2008, and over the past seven years has been pulling out all the stops to remake its mark on the traditional lambic world. In that quest, brewery Owner Anthony Martin hired brewing legend Willem Van Herreweghen (pictured at top with a sample of kriekenlambiek) in early 2009 to lead the project. Van Herreweghen founded Geuzestekerij De Cam in 1997, and it was he and Armand Debelder of 3 Fonteinen who collaborated on the vaunted Millennium Geuze of 1998. Bottom line: Van Herreweghen is one of the world's top experts on the subject of brewing lambics.
Timmermans produces traditional fruit beers such as kriekenlambiek and Oude Kriek. Van Herreweghen says, "For me, a kriek should have real cherries, with the stones [pits] in them. Also, a kriek should never be sweet, as kriek means 'sour cherry' in the Flemish language. We add 400 grams [14 ounces] of cherries per liter [quart] of lambic to make our kriekenlambiek." He adds, "The quality and taste of the cherries is most important. We source cherries from Belgium, the Czech Republic, Germany, and Poland. The aroma can be slightly different from year to year, so taste is the determining factor."
Gueuzerie Tilquin
At Gueuzerie Tilquin, the keyword about their fruited lambic program is creativity. Tilquin is the only gueuze blendery, or gueuzerie, in Wallonia, the French-speaking part of Belgium, located in Bierghes (Rebecq) just 200 meters [220 yards] or so from the border with Flanders. Gueuzerie Tilquin was founded in 2009 by Pierre Tilquin, who remarked that year, "I have some ideas for fruit beers for the future, but I won't make kriek or framboise. I want to do something different than the other lambic makers."
At Tilquin, as at the other lambic blenderies in Belgium, wort is brought from a lambic brewery via tanker truck the morning after the wort has cooled overnight in a koelschip (coolship), then the wort is pumped into the blendery's wooden barrels. The worts that Tilquin uses come from Boon, Cantillon, Girardin, and Lindemans, but Tilquin does not brew any wort itself. While it's very common for breweries to blend other brewers' wort into their own, Tilquin is the only lambic blender to use wort from Cantillon—Pierre Tilquin worked at Cantillon for six months and has a close relationship with the Brussels brewery.
In mid-2012, Tilquin's first fruited lambic, Quetsche, debuted. The fruit used is fresh purple plums, with their pits removed. The plum variety in Belgium is called Prune de Namur, and in France, it is Quetsche véritable d'Alsace. "For the 2014 season, about half of the bottles will be with plums from Namur, and the other half, plums from Alsace. There will be a sign on the bottles with Namur plums that reads, "avec Prunes de Namur," Tilquin mentioned in March.
The second Tilquin fruit beer took almost three more years to come to fruition. Mûre Tilquin à l'ancienne is tentatively set to debut at Tour de Geuze 2015—a bi-annual open house at most of the lambic producers in Belgium, on Sunday, May 3. Mûre is a blackberry lambic and was bottled the first week of January. Pierre Tilquin says, "There are 350 grams [12 ounces] of blackberries per liter [quart] in this beer, so the blackberries are 35 percent of the blend." For this first release, fewer than 6,000 bottles were filled, with some being 37.5 cl and some in the 75 cl size. You can expect the amount bottled to increase in coming years if the beer is a success, as it is sure to be.
As to the blending and steeping process, Tilquin says, "For the Quetsche and the Mûre, the fruits are soaked with 1,000 liters [264 gallons] of a blend of one-year-old lambics. Fermentation takes four months, and then I pump the content of the tank, and I blend again with one-, two-, and three-year-old lambics."
Oud Beersel
Oud Beersel lambic brewery, in Beersel, was originally founded in 1882, and the old brewery has been turned into a museum. A nonprofit group called De Geuzen van Oud Beersel helps maintain the museum, gives tours, and organizes activities, such as a yearly lambic blending course, and other beer-related events.
Oud Beersel Owner/Blender Gert Christiaens has been crafting kriek and oude kriek for a number of years. All of the wort for the Oud Beersel beers is brewed at Brouwerij Boon in Lembeek, using the Oud Beersel recipe, and is brought to Oud Beersel and pumped into its oak barrels, some of which are more than 100 years old.
To produce cherry beers, Christiaens uses several steps. "We first make an extract in a couple of barrels by filling them with 80 percent whole cherries and 20 percent one-year-old lambic. This can then be blended with more one-year-old lambic to make our Oud Beersel Kriek," Gert explains. To produce the traditional oude kriek, the kriek extract is added to a blend of one-, two-, and three-year-old lambics, and then bottled. Depending on whether there are enough unfermented sugars left in the lambic, a little sugar might be added at bottling. The unfermented sugars left in the bottle will spark a new, third fermentation. All bottling is done at Brouwerij Boon.
"For the oude kriek, we have a beer that is about 60 percent blended lambic and 40 percent cherries, which is a very high percentage of fruit—higher, in fact, than at many other traditional lambic breweries," Christiaens says. The cherries come from Poland and are purchased together with Brouwerij Boon.
As to possibly using other cherry varieties, Christiaens says, "Up to now, we have not commercialized any Schaerbeekse Oude Kriek, but we have done several internal tests with great results. Let's see what the future brings."
Schaerbeekse cherries originated in an area just north of Brussels and were the cherries most used by lambic makers in the past, but are increasingly difficult to find. These cherries help produce some of the most intense, fruity, complex kriek beers.
Brouwerij 3 Fonteinen
Brouwerij 3 Fonteinen, also in Beersel, works with both cherries and raspberries. "In fact, we have a new 3 Fonteinen Framboos maturing in bottles right now," Michaël Blancquaert told me in February. "It should be released sometime this month," he added. Blancquaert, thirty, who has been comanager of the brewery and a shareholder since January 2012, will eventually take over 3 Fonteinen when revered brewer and blender Armand Debelder retires.
As to the new Framboos, he says, "For the Framboos, we work with 100 percent frozen raspberries that we buy from a farm in Wambeek, Belgium. We use the whole fruit, so there is no special treatment before we put them on lambic. We only use young lambic for our fruit beers, and we only make those beers during brewing/bottling season when it's cold enough."
Brasserie Cantillon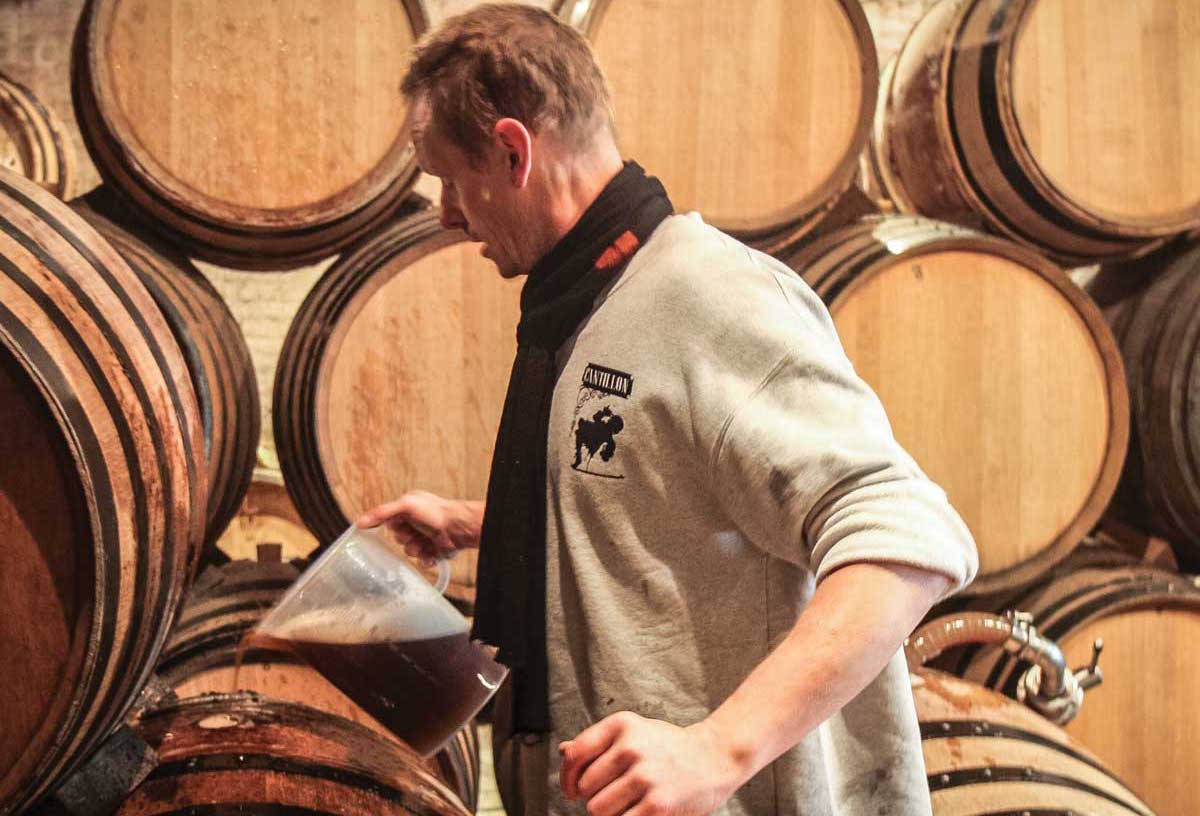 Brasserie Cantillon, of Brussels, makes a raspberry brew that should be on every lambic drinker's bucket list: Lou Pepe Framboise. Master Brewer Jean Van Roy (pictured above; photo courtesy of Brasserie Cantillon) says, "We blend fresh raspberries right after harvest with two-year-old lambic. As with all the Lou Pepe brands, most of the beers are aged in fresh Bordeaux wine barrels used for the first time to mature lambic. Because of this, some wine flavor is added to the beer. Also, in order to start a second fermentation, we add classic sugar to the blend, instead of young lambic. In this way, more fruit flavors are retained in the beer, because adding young lambic would lessen the fruit character. We no longer use a sweet liquor to start the second fermentation."
Van Roy adds, "We don't always work with wooden barrels to let the raspberries mature with lambic. As with other fruits, we use steel tanks and barrels."
About 300 grams [10.5 ounces] per liter [quart] of raspberries are used in Lou Pepe Framboise, 50 percent more than they use in Rosé de Gambrinus, Cantillon's other raspberry brew.
With more than a hundred years of development behind them, Belgium's traditional unsweetened fruited lambic brews are the benchmark by which all other sour fruit beers are judged. The incredible complexity of these beers and the dedication required to produce them has cemented their "classic" status.
But Belgian brewers are not resting on this tradition and instead continually build on it, exploring different fruits, higher fruit concentrations, and new methods for extracting flavor and depth from their fruit.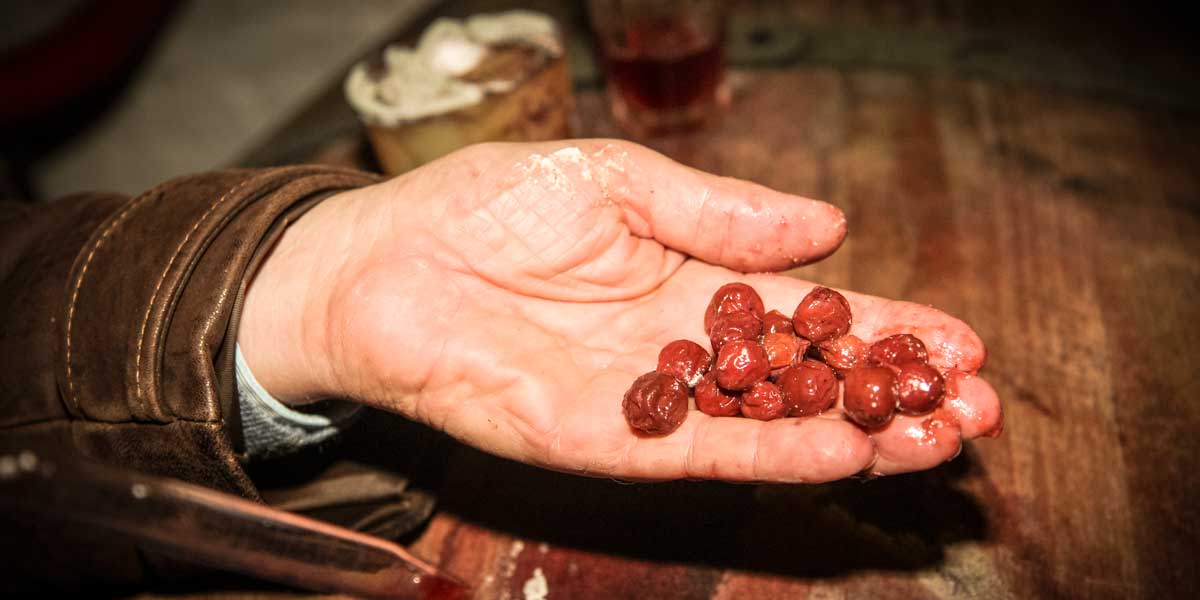 Why Cherries?
You might ask, why is there such a Belgian tradition and fascination with cherries? Many factors make cherries very desirable for brewers. First, the fresh taste and aroma of sour cherries are unique—the fruit aromas of a kriek add to the sensory pleasure of enjoying a beer, and the pits also add flavor. Also, the lambic yeasts ( and others) almost totally ferment the cherries' sugars in the months following the addition of the cherries to the lambic. Any remaining sugars can also trigger refermentation in the bottle, while unfermentable sugars in cherries can impart some fullness to a brew. In addition, the deep red color of an authentic kriek is a beautiful sight. All these factors can make for an incredibly complex brew, one that has to be contemplated even as it is savored.
Cherries are also relatively easy to work with—cleaning cherry juice, skins, and pits from the brewing and filtering equipment is not terribly difficult. And, in central and western Europe, cherries have a relatively short harvest window of a few weeks, which can lead to an oversupply of the fruit and lower prices. This makes brewers happy.
Timmermans's Willem Van Herreweghen adds, "We prefer working with cherries as opposed to other fruits. Take raspberries, for example. Raspberries are more difficult to work with due to the content of the fruit itself. Cherries have stones [pits] that are much bigger than the small seeds of the raspberry, so raspberries are much more difficult to separate from the beer after maceration."
Raspberries also lose their color much more quickly than cherries. Whereas a traditional kriek can retain its reddish color for two or three decades or more, raspberry lambics can lose their pinkish color within a few years. Raspberries are also much more expensive than cherries. This, and the difficulty of working with whole raspberries, means only the most determined of brewers will do so.
Get dozens of beer reviews and keep up with the latest trends in brewing and craft beer with a subscription to Craft Beer & Brewing Magazine®. Subscribe today!