Toppling Goliath Assassin
(Decorah, Iowa)
A study in legacy and expectation, Assassin has been a litmus test for barrel-aged stouts since its launch in 2012. With a few contemporaries, it changed consumer expectations for the category. Like others, it has suffered a bit from its own success—heavy is the head that wears the crown.
Over the years, Assassin had been drifting toward a characterful but polarizing ester profile, with dark fruit, herbal bourbon, and anise notes. This 2020 vintage of the barrel-aged stout classic is a departure from that expectation, exuding a deep, direct, polished dark-chocolate note, buoyed by oak-barrel notes of vanillin and coconut. With the silky confidence of a rich cabernet sauvignon, it finds that elusive balance between dark and sweet, weighing crowd-pleasing milk chocolate notes against austere dark chocolate. Layered caramel and toffee mid-tones support the highs and lows, and a bit of dark roast adds punchy definition without dominating the sip.
The past nine years of Assassin vintages have all been engaging and rewarding, but in 2020 we see the brewery pulling inward, focusing on delicate details, and putting the finest of points on this standard-bearing barrel-aged imperial stout. It's a bold and confident statement, and we can only wait to see what future vintages bring.
Dovetail Helles
(Chicago)
We already knew we liked these guys—their dogged devotion to traditional techniques and their loyal following in Chicago helped to make them one of our Breakout Brewers a year ago. We've enjoyed their beers, too, as have our writers—Dovetail appears in multiple critics' lists this year. So, we can't deny a certain feeling of vindication when their lagers also rise to the top of our blind tastings.
To be fair, there are other Dovetail beers we could have put here—namely, the Czech Dark Lager, the Pilsner, or the Rauchbier. However, this is the light, sublime, unassuming wallflower that just grows in our esteem the more we drink it. Its light doughy malt gives it a richness that belies its 4.4 percent ABV—though it finishes dry enough—while the Saphir-led lemon-lime-floral notes and subtle minerality add interest.
It's closer to kellerbier than what most American beer enthusiasts know as helles, and it brings us closer to sitting under the Franconian chestnuts with a hefty krug in our hands more than any American-brewed lager we've yet found.
Springdale Kölsch Money
(Framingham, Massachusetts)
Beer enthusiasts outside the Boston area might hear the name "Springdale" and ask, "Who?" The best answer to that question is "Jack's Abby," and then it all starts to make sense—the exactitude, the balance, the authentic approach. Jack Hendler and his team have been nailing classic lager styles for a decade now, and we can't think of any reason why playing around with different yeasts would throw them off their game—though it's worth mentioning that their Post Shift Pilsner and Copper Legend Octoberfest were highly competitive for this spot, and arguably just as deserving.
In the end, it was this delicately brewed Kölsch-style ale that shone brightest in our tastings. It presents as brilliantly clear, with properly sturdy foam. Clean, light, honey-bread malt plays with peardrop in the nose, light sweetness passing through soft bitterness on the palate—stepping just a pinky toe over the line for a subtle addictive quality—leading to a dryish, totally clean finish.
We don't find the word "crisp" especially helpful—it's too often applied to thin, characterless beers—but we know what people mean when they say it, and this beer has a snap to it, then it's done, and then you want more. It's a model of precision made by brewers who know a thing or two about it.
---
If you're a Craft Beer & Brewing Magazine® subscriber, follow the link for a homebrew-scale Kölsch Money recipe from Springdale and Jack's Abby cofounder Jack Hendler.
---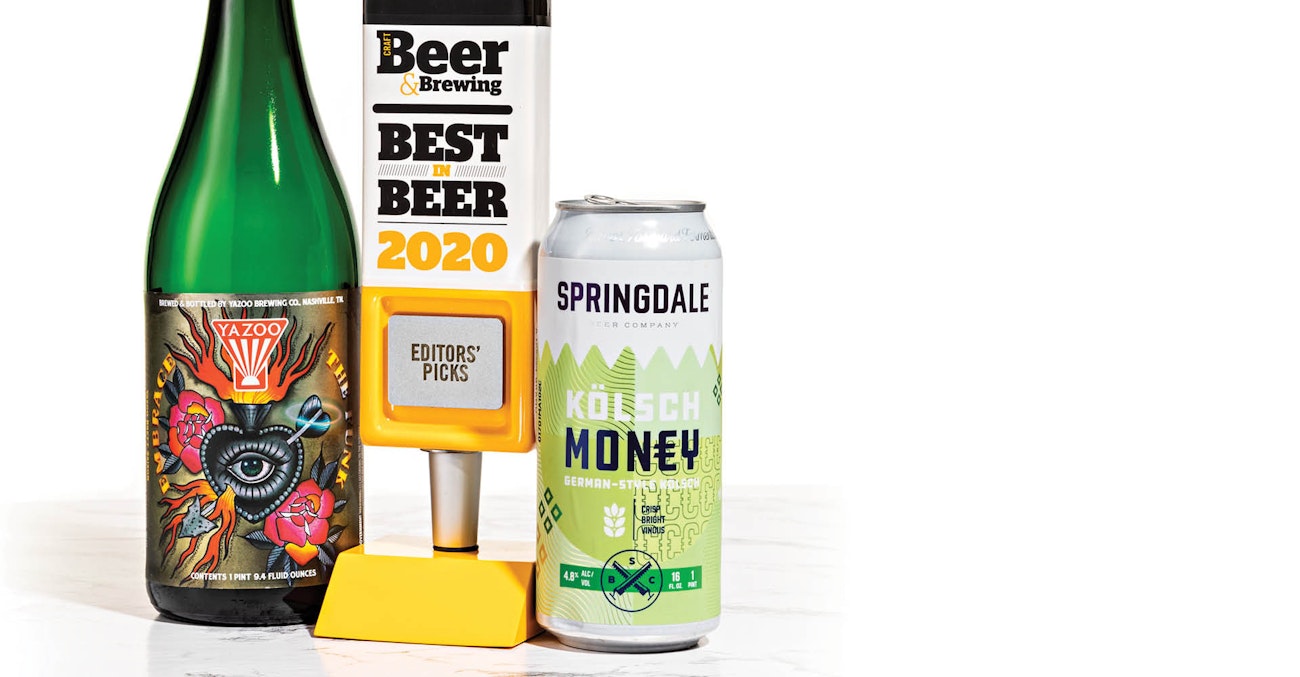 Yazoo Brett Saison
(Nashville, Tennessee)
There are plenty of farmhouse-inspired ales with Brett out there these days, but how many tread that half-wild path without putting a foot wrong anywhere? How many funk-affected, mid-strength saisons—this one checks in at 5.8 percent—have a drinkability that comes close to deserving that whole refresh-the-farmworkers story?
Here, a gueuze-like mineral funk, backed by soft toasted bread and orange marmalade, leads the nose. Lime, yuzu, kiwi, and fried plantain push a solidly tropical note along with a touch of pithy bitterness. The sip is dry but big, with fruit notes creating an impression of a sweetness that isn't really there. Zesty berry and white pepper phenols offer a tight structure, while a bit of woody tannin creeps into the finish.
Despite the sprawling range of flavor, this is a display of tight editing. While many contemporary farmhouse beers dawdle with lingering acidity or fruit ester, Yazoo Brett Saison is quick and direct, getting to the point then moving off the palate, leaving just a faint, light, fruity-hops bitterness as it fades. It's a simplicity in sophistication that's rare to find.
pFriem Czech Dark Lager
(Hood River, Oregon)
Oregon's pFriem has built a strong reputation for finely crafted lagers, yet they brew so many beers of note—from IPA to pilsner and wild and sour ales—and they have no fewer than eight beers that have scored 95 and above with the Craft Beer & Brewing Magazine® blind-judging panel. The fact that their mastery of brewing stretches across so many disparate styles speaks volumes about their creativity and attention to detail.
Their take on Czech-style tmavé wowed our judges with its clean, concise, timeless approach. The nose entices with light toffee, pumpernickel-spice, burnt bread crust, and floral Noble hops. The substantial caramel-forward body nonetheless winds up dry and defined.
Beyond flavor, the technical achievement is impressive—lasting, lingering foam and stripes of lace; elegant, creamy carbonation. The details help show just how focused pFriem is on getting the experience right, and brewing world-class examples of classic styles.
Firestone Walker Nitro Merlin Milk Stout
(Paso Robles, California)
It is, indeed, the small things that make for compelling smaller beers, and Firestone Walker's Nitro Merlin Milk Stout (at 5.5 percent ABV) abounds in these fine-tuned details. While we often focus on aroma and flavor as sources of pleasure in the drinking experience, the details begin well before the sip, with the pour and persistent, creamy foam that showcase thoughtful construction. Lacing along the glass tells the story of each gulp—an impressive achievement in a canned beer sold widely.
Merlin's nose offers restraint and subtlety, with light roasted coffee and touches of chai spice, caramel apple, and marshmallow. It eschews the overt dessert that so many brewers pursue today, preferring suggestion over statement—intriguing, but with enough friendly familiarity to feel comfortable. The sip rolls in gently and smoothly, with a lush, mouth-filling creaminess that still feels succinct and not excessive. Milk- and dark-chocolate notes offer just enough decadence.
It takes a fine hand to produce a beer that feels so thoroughly polished and crafted, but that doesn't lose its energy and spark. Nitro Merlin Milk Stout is an accomplishment, an example of masterful brewers at work.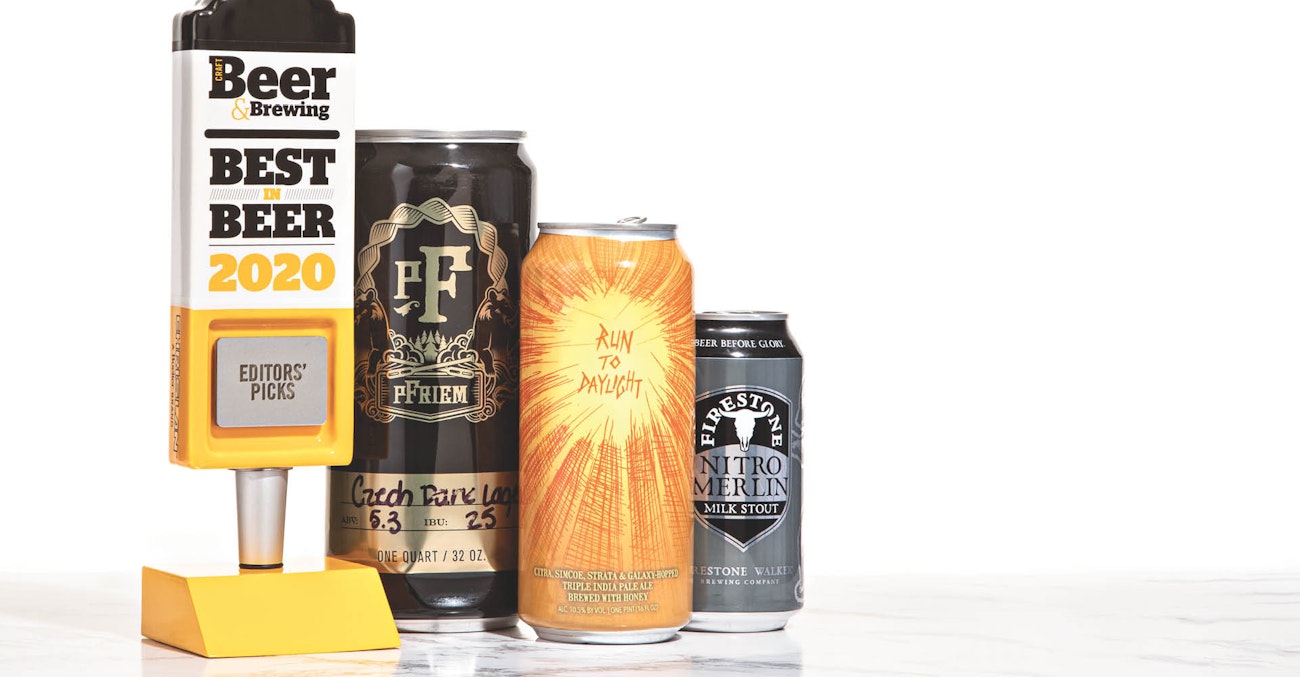 Hop Butcher For The World Run to Daylight
(Darien, Illinois)
Hop Butcher's gift for marketing—the intriguing names, rooted in their city; their distinctive, eye-catching artwork—might persuade the uninitiated that they are dealing with style over substance. They would be wrong.
That they put out bright, balanced, hop-forward lagers nearly as entertaining as their juice bombs shows a broader level of technical ability. (Another favorite of ours this year was Supreme Being, a Saaz-rich pilsner given soft berry depth by Monroe hops.) These are hop alchemists and tinkerers at work, and their gift for blending and using hops in different ways to get the most out of them raises their hazy-IPA game well above the crowd.
Run to Daylight—our judges gave it a perfect 100—is a "triple IPA" of 10.5 percent strength, brewed with a jungle-juice cocktail of Citra, Galaxy, Simcoe, and Strata, sending torn lime wedges, fresh-squeezed OJ, and pineapple daiquiri into the nose. On the sip, light acidity draws out that fruit while helping to check that big sweetness, as does a late-arriving smack of bitterness, which is nonetheless too enfolded in a thick blanket of malt body to have any harshness.
As much as we've enjoyed some of Hop Butcher's cruising-speed beers, we think they might be at their best when they blow out the governors and hurtle headlong into hop-wine territory.
Grains of Wrath Crypt Keeper
(Camas, Washington)
Grains of Wrath appeared on our radar via their award-winning Vienna Lager, and we'd like nothing better than to settle in at their pub and get to know all their other lagers even better. But we were equally thrilled by their West Coast–style IPAs, including their top-seller Dystopia—and Crypt Keeper, a single-hopped Citra showcase that's all bright fruit and clean lines.
The beer is golden and clear, while the aroma evokes ripe citrus—oranges, tangerines, clementines—in an indulgent way that wouldn't be out of place over a thicker, hazier brew. The sip brings a quick herbal bitterness beautifully integrated with light sweetness, brightened by big citrus—a beautiful, reasonably dry expression of the showcase hop—with all distractions eliminated to spotlight that core essence.
The West Coast is back and we are here for it, as brewers get to revel in returning to a brighter, more bitter kind of IPA. Grains of Wrath never left it in the first place, and they've been fine-tuning all along. Others will be playing catch-up.
---
If you're a Craft Beer & Brewing Magazine® subscriber, follow the link for a homebrew-scale Crypt Keeper recipe from Grains of Wrath cofounder Mike Hunsaker.
---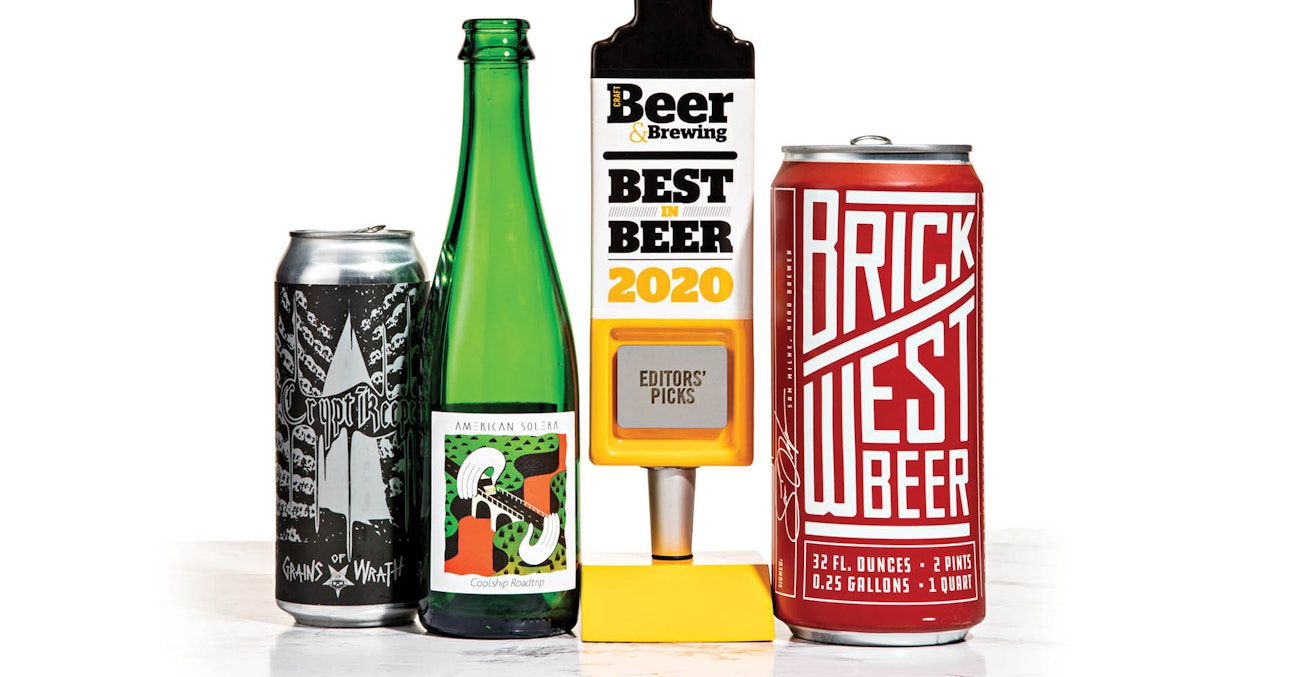 American Solera Coolship RoadTrip
(Tulsa, Oklahoma) Time is a critical ingredient in spontaneous beers, but Coolship Roadtrip brings another dimension: space. The collaborators brewed the wort at Jester King in Texas, then drove it to American Solera in Oklahoma; it began fermenting along the way, before it was barreled and later blended in Tulsa.
The story is good, but the result is better. As an American spontaneous beer blended in the gueuze tradition, with beer from three consecutive years, we found it uniquely compelling: A peppery nose with lemon-lime citrus and woody Brett notes leads into a bright mimosa sip, tempered by a minerality and phenolic funk. It never drops too low in tone, and the moderate acidity never gets too sharp.
Collaborations rarely rise to the quality expected from a brewery's core releases—repetition allows for iteration and improvement, generally speaking. But the patience needed for this collaboration is stunning—more than three years from the first road trip to release—and the quality is worth every mile.
Brick West Get Right Gose
(Spokane, Washington)
It seems impossible that Brick West has only been around for a year. Its lagers are mature and characterful, showing a meticulous approach—the pilsner and helles walked into our blind-panel reviews and scored a 98 and 96, respectively. Then the imperial stout did it, too, earning a 96 via old-fashioned roast and bitterness. Obviously, this was a brewery to watch.
Is it possible that the gose is even better? It has an argument. Get Right blew us away with sublimity and delicacy. Very pale, sparkling like champagne, with sturdy foam, it's immediately attractive. The acidity in the flavor is soft, lemony, zesty, and beautifully controlled, as is the lightest touch of salt. The whole experience is feather-light on the palate, tiptoeing across with lively carbonation, finishing cleanly, with the lightest bit of tartness lingering.
It's an exercise in restraint, balance, and intricate construction—yet immediately likeable and immensely refreshing… a work of art that you can admire or destroy.
---
If you're a Craft Beer & Brewing Magazine® subscriber, follow the link for a homebrew-scale Get Right Gose recipe from Sam Milne of Brick West. And while you're at it, read Milne's subscriber-exclusive brewer's perspective on brewing gose.
---
Side Project Beer : Barrel : Time
(Saint Louis, Missouri). Like a Frank Gehry building, Side Project's Beer : Barrel : Time is a definitive statement, bombastic in scale yet unapologetic in its creative vision. The late 2019 vintage follows in the big footprints of the previous two releases, with broad volumes of finely sculpted dark chocolate and espresso, tighter flowing forms of creamy caramel, Nutella, and roasted peanut, and a subtle marshmallow sheen reflecting off the facade. Big barrel notes of vanilla and oak come on strong but gently, with curving edges and a cohesive sureness. Imposing forms juxtapose in ways that would be jarring under a hand less deft.
The engineering necessary to construct such a year-in, year-out marvel is impressive—a product of blending, it's built from components of varying recipes and time, barreled and aged for an average of 22 months with a belief in possibility more than express purpose.
Spirits-barrel-aged beer is still young—barely a quarter-century old—and the category has only become significant in the past decade. But Side Project have earned their place in that young history by showcasing a mastery of design, technical process, and blending that have made them both commercially successful and highly influential among their peers. Beer : Barrel : Time not only showcases their own prowess. It deserves a place at the table with the finest artisanal beverages produced anywhere in the world.
---
All-access subscribers have full access to this 86-minute class from Side Project's Cory King on brewing and blending big barrel-aged stouts.
---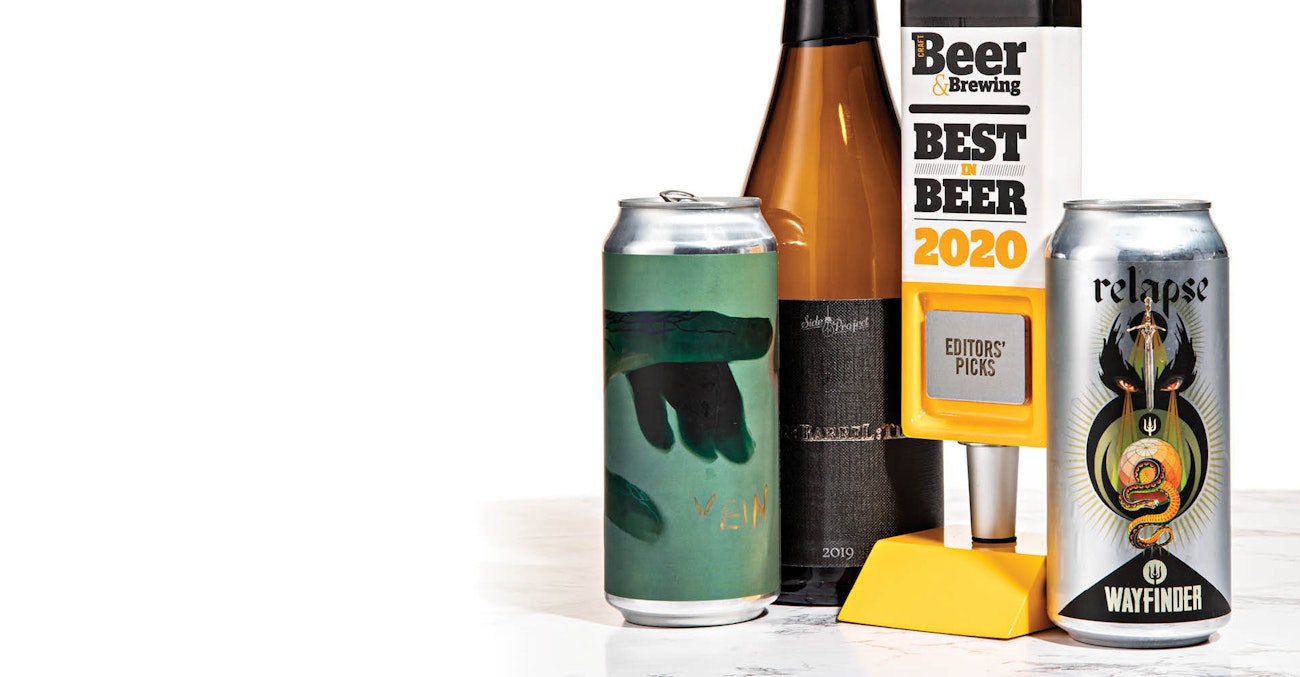 The Veil Vein
(Richmond, Virginia)
Hey, we didn't expect this either. We would not have been shocked to find one of the Veil's popular juicy IPAs land here, nor one of its thoughtful wild or mixed-fermentation beers. But this has been a weird year by any measure, and so The Veil cracked our Best with its take on a German-style pilsner.
Properly gold rather than sickly pale, with a proper cap of foam—that's how it starts. The nose is pleasant and fresh, with amped-up Saaz and Tettnanger at their best: notes of lime zest and spicy herbs comingling perfectly; it's complex without being ostentatious. On the sip, that light, bright, malt sweetness is perfectly married to that herbal-zesty hop character, then grounded in firm bitterness. The dry finish compels further sips, then gulps.
There is a seriousness of purpose here: Noble hops, floor-malted barley, thoughtful step mash, and spunding for natural carbonation. When you consider that this is no fluke at all—that it's the same seriousness of purpose that they apply to other beers, however fashionable—then it doesn't seem so weird at all.
Wayfinder Relapse IPA.
(Portland, Oregon)
Wayfinder are known for their lagers and for their attention to details, such as those side-pull taps where you might find the also-excellent Czech AF being poured with care. However, there is distinctive vision and originality at work in the Relapse, an idiosyncratic hybrid that is as fun to drink as it is to try to explain.
You don't really need to know where to file this beer mentally. If you know that it's hopped like an IPA but ferments like a lager, then you might want to call it an IPL—but they call it a "cold IPA," and let's be honest, that's sexier. Or, given its lean frame, its clarity, and its 70-plus IBUs, they also say it's "Wester than West Coast"—and that fits, too.
It's totally clear and quite pale, intentionally—there is a fair amount of rice in the grist, so it's also unabashedly American—while the pine-woodsy nose seesaws candied orange slices with catty dankness. On the palate, the body is slightly bigger than its paleness would suggest; it's lightly sweet and firmly bitter, with piney-dank flavor, but with resin failing to coat the tongue and therefore failing to hinder more drinking. It's almost too easy, at 7 percent ABV. This is a delicious and addictive beer that can light up late-night conversation, even after a couple too many.
---
If you're a Craft Beer & Brewing Magazine® subscriber, follow the link for a homebrew-scale Wayfinder Relapse recipe from Wayfinder Brewmaster Kevin Davey.
---
Untitled Art Cherry Sour À la Mode
(Madison, Wisconsin)
We've watched the trends over the past few years push craft beer into interesting territory, as more and more breweries seek intense flavors at the expense of shelf stability (and even customer safety). Clearly, brewery admonitions to keep cold and drink fresh are not always heeded. But concurrent with that trend is another, more heartening, one where breweries such as Untitled Art have taken the concept and applied production rigor, creating beers that scratch that itch without the negative side effects.
Quick-soured fruit beers are generally perceived as craft beer's pop music—a bit saccharine, slightly pandering, simple, and obvious. But Cherry Sour à La Mode is a bit like an Amy Winehouse song—new yet classic and familiar, accessible without losing its edge, insightful despite the pop package. It pulls on the same nostalgic thread spun by breakfast cereal or slushy quick sours, but sneaks in a bit of artful allusion that's smarter than one might expect for a sweet beer made to evoke dessert.
The fun starts with the color—the ruby-toned body and pink foam are visibly enticing. An enveloping aroma of plump tart cherries, pie crust, and vanilla draw you in, where the sip brings big tart-cherry notes but with a deeper toned nutty noyaux base note that grounds it. The bready pie- crust notes come through in the flavor, amplified a bit by the creamy vanilla, but a rather significant smooth tartness keeps the generally sweet character in check. The result is that rare pop music that even indie music snobs embrace—a beer everyone can enjoy without qualification, unironically.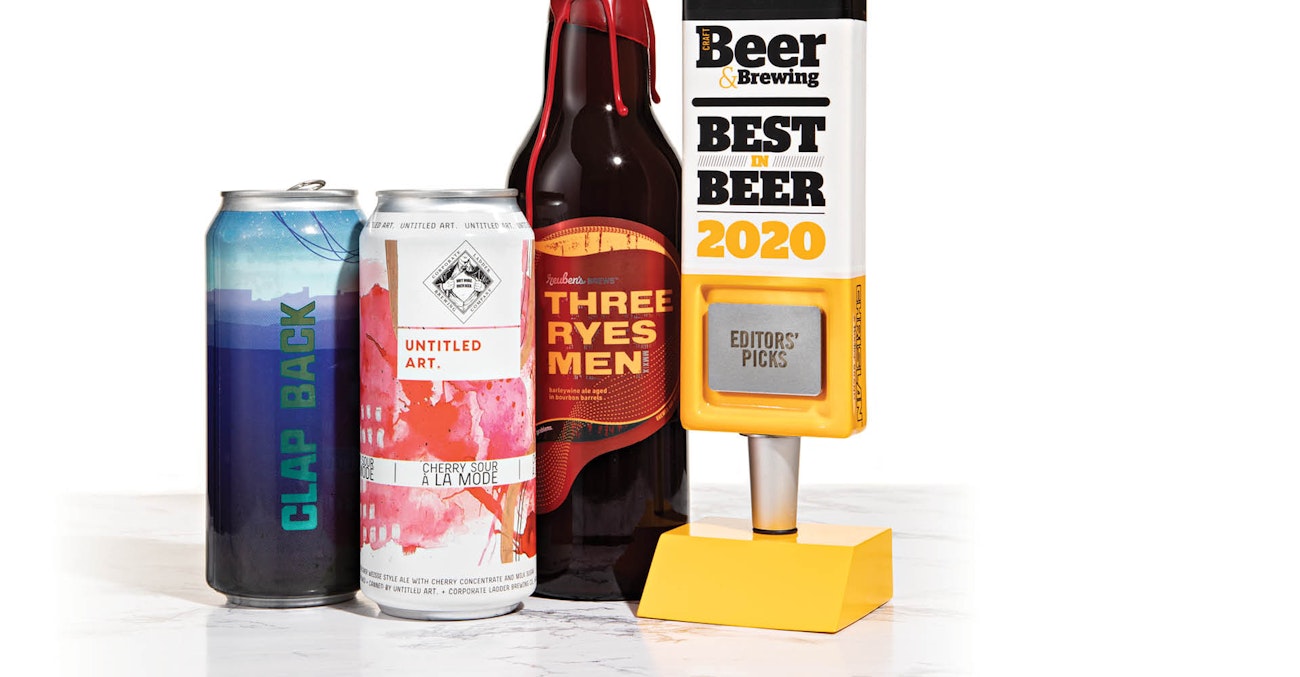 New Anthem Clapback
(Wilmington, North Carolina) For the second year in a row, Wilmington, North Carolina's New Anthem Beer Project rocked our blind panel's IPA tasting with a gorgeous expression of Citra wrapped up in a clean, perfectly expressed, juicy-hazy package. It's no small feat to stand out so prominently amid a field of hundreds of excellent contenders, but New Anthem does so by celebrating the duality of hoppy hazy ales—embracing the sweet citrus side while doggedly perfecting soft bitterness, with that underlying tropical fruit funk that adds dimension.
We have found that the beers in the hazy-juicy realm that most appeal to us tend to be higher in alcohol. That 8-plus percent ABV realm seems to be where all the important elements come together—alcohol warmth, hop intensity, body, sweetness, and bitterness. Lower-strength expressions can also be a pleasure, but they tend to lack the heft that can really tie these strands together and make them sing.
With Clapback, the brilliant fruit flavors are all there up front—grapefruit, tangerine, lychee, lime, and orange—but the lightly grassy, herbal undertone gives it depth beyond just-juice. Light pine and subtle funky-tropical mid-notes add both familiarity and touches of the exotic. Achieving this level of intention, clarity, and definition in an admittedly sweet, indulgent beer is something to celebrate.
Reuben's Brews Three Ryes Men
(Seattle, Washington)
While the current trend sees brewers hellbent on finding new ways to increase both starting and finishing gravities, pushing thick mouthfeel at the expense of nuance and detail, Reuben's Brews have lovingly and thoughtfully crafted this reminder that balance works across many different axes.
It starts in the nose, where pointed fennel and spice are layered with rich caramel, raisins, and dates. The sip pushes deeper into decadence, with toffee and coconut joining the dark fruit and chocolate—like a mashup of Cadbury Fruit & Nut with Caramello. Vanilla-coconut barrel notes join a boozy finish. Throughout, the firm hand of hop-bitterness and herbal spice help balance the inherent sweetness and keep the train on the rails.
Contextually, we've watched barleywines grow sweeter over the past few years, jettisoning hops and losing their ability to balance the residual sugars inherent in high-gravity beers. Three Ryes Men bucks the trend, embracing the perfect amount of soft bitterness and herbal spice as the ideal complement to sweet malt and warming alcohol.
Omnipollo Bianca Blueberry Maple Chocolate Peanut Butter Pancake Lassi Gose
(Stockholm, Sweden)
When describing beer, aroma and flavor are the two most considered elements. Between them, normally, it's possible to capture about 90 percent of what makes a beer special, interesting, or noteworthy. Mouthfeel plays a role, but texture is not always properly considered.
Omnipollo's experiential approach to serving their heavily fruited quick-sour beers turns that assumption on its head, with time, texture, and temperature all key considerations. We've seen plenty of beer shoved in slushy machines over the past few years in order to garner a few Instagram likes, but the aesthetic alone does not make for a unique experience. Omnipollo's approach radically departs from the college-bar frozen-drink vibe that seems pervasive, opting instead for a feeling more José Andrés than TGI Fridays.
We came across this particular concoction at the Side Project Invitational back in February. It would be a slight overstatement to say we wanted to hate it, but we may have read all those words and rolled our eyes. But we also saw the product, a dark thing lit by a glowing-purple torch of soft-serve on top. We went for it. Then we went for another … We promise: If it weren't really tasty, it wouldn't be here. The frozen beer's tart-fresh-fruit quality brings something that nothing in the supermarket freezer section can really touch, while the nutty-maple richness of the beer beneath offers its own sort of balance. It's a delicious piece of theater that dares you to hate fun (but you can't).
Wolf's Ridge Double Chocolate Rum Barrel Dire Wolf
(Columbus, Ohio)
Wolf's Ridge sent at least three beers that lit up our eyes during blind tasting. One was Daybreak, a coffee-vanilla cream ale with super-fresh, just-walked-into-the-coffee-shop character. Another was Terre du Sauvage Blue, a beautifully balanced oak-fermented mixed-ferm saison. The fact that three such different styles from the same brewery were in the final conversation—again, these were blind tastings—says a hell of a lot about acumen, even if from a unheralded source.
In end though, the Rum Barrel Dire Wolf was a clear favorite, with nose of deep, dark, rich cacao, sprinkled with roast nuts. Full-bodied with fluffy texture, tasting of dark-chocolate truffle-powder—super rich and chocolatey without being sweet or feeling fatty. The cocoa even brings dark fruit and peppery notes; you can imagine a chocolatier explaining how he goes all the way to Guatemala (or wherever) to source it himself.
Beyond all that, it drinks well under its strength. Suddenly, we find ourselves looking for excuses to visit Columbus.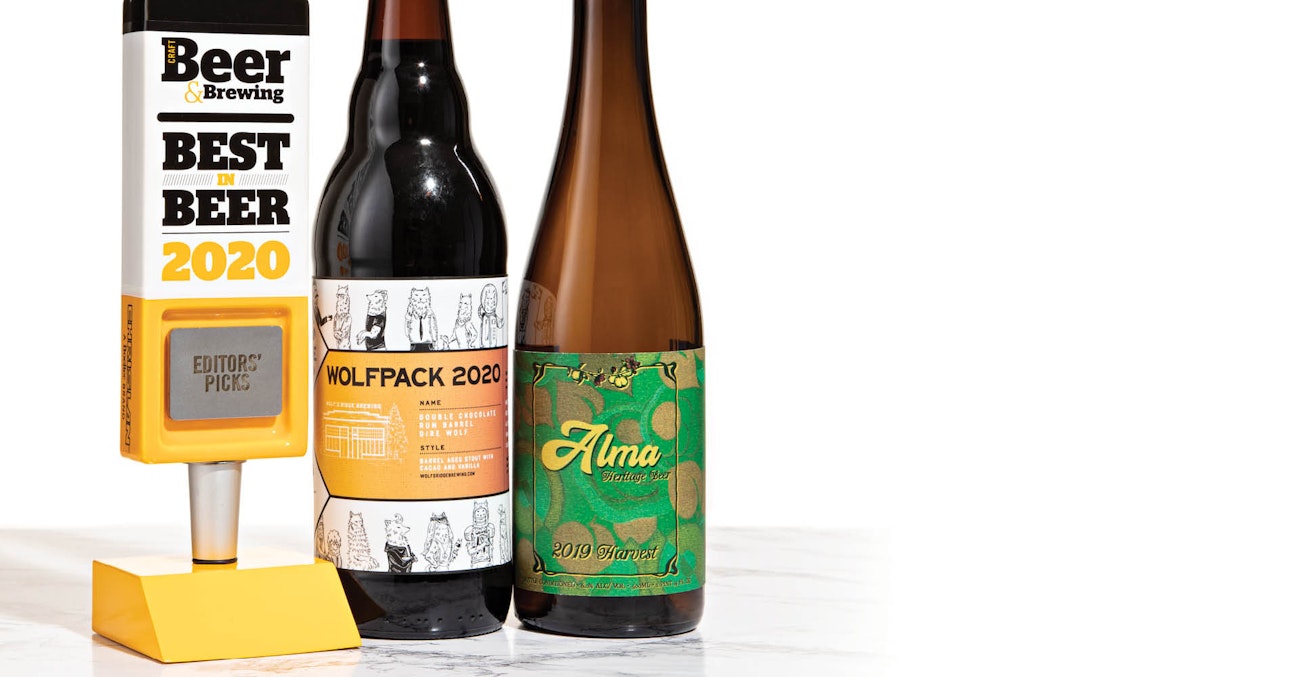 Von Ebert Alma
(Portland, Oregon)
This three-year-old brewery in a city and state that are chock-full of great ones took home a couple of Oregon Beer Award golds earlier this year—for their Vienna and Rauch Helles. So, it wouldn't have been a great shock to see one of their lagers wind up here, too. Instead, how about a mixed-Brett-culture, foeder-aged farmhouse ale conditioned on 1,000 pounds of peaches?
Orange-gold in color with respectable foam for its type, the beer is immediately attractive. Even more enticing is the nose of sweet peaches with notes of fresh apricot, the peels of lemons and limes, and a light bit of cellar dust. The flavor is softly tart, tangy, drawing out fresh stone fruit, while an earthy cellar quality mingles with soft bitterness, keeping it rustic and grounded. The tangy fruit lingers afterward, intertwining with Brett funk that will inevitably develop and blossom further.
This beer and this brewery are bound for further evolution, and we're excited to watch.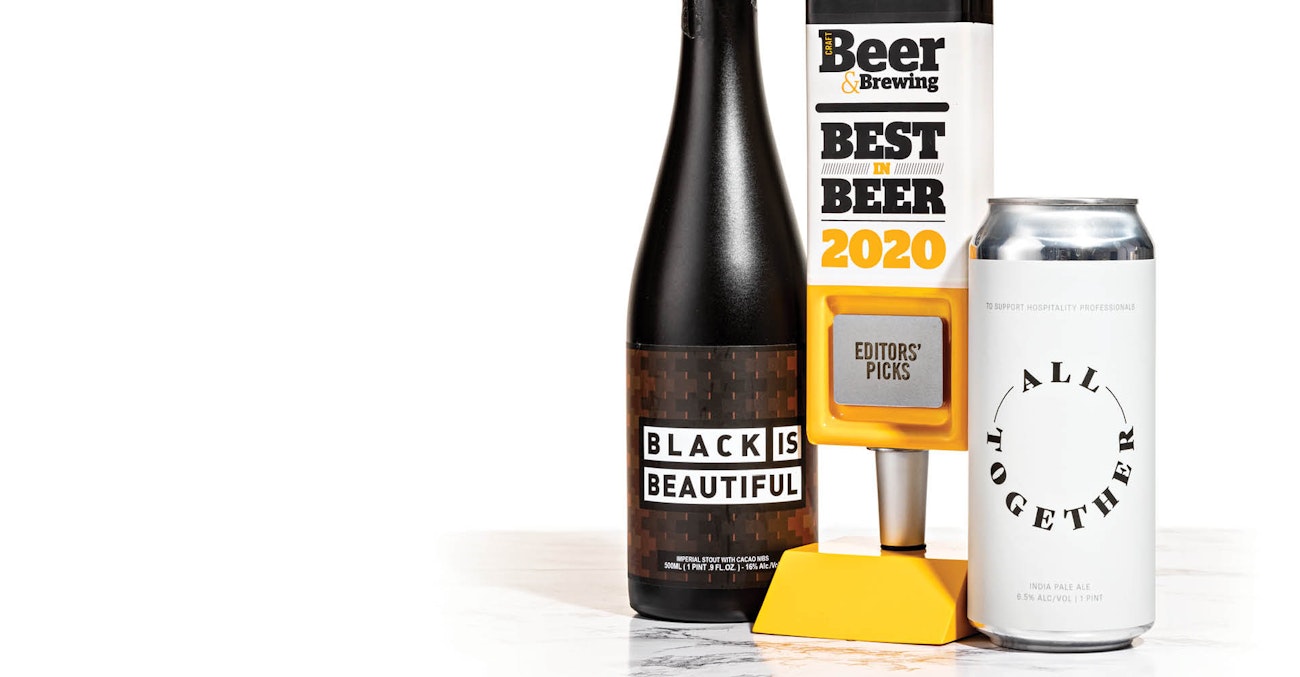 All Together & Black is Beautiful
(Various, Worldwide) It's only fitting that we wrap up this year's editors' picks with two collaborative projects that helped define craft beer in 2020. Borrowing good ideas from the important Resilience project spearheaded by Sierra Nevada back in 2018, both of these initiatives—Other Half's All Together project and Weathered Souls' Black is Beautiful—brought breweries across the globe together around shared concepts of social good. Proceeds went at the local level to groups aligned with the causes of the projects.
Other Half's All Together collaboration brought at least 855 breweries together under the banner of funds and awareness for the plight of hospitality workers during the pandemic. Weathered Souls' Black is Beautiful collab saw 1,171 breweries join to help call attention to the daily injustices faced by people of color.
Beyond the funds and awareness raised, one interesting effect of these collaborative projects was how they have been able to corral some of the geekier corners of beer fanaticism and turn them into instruments for good. Suddenly, traders who had been focused on ticking off the highest-rated beers changed course, trading for All Together and Black is Beautiful editions from far-flung breweries. The demand to try as many as possible drove additional sales, raising additional funds, and ultimately helped the social and financial goals of the projects. It was refreshing thing to see "ticker" culture turned into a force for good.
It was also refreshing to see breweries put their own spins on these core recipes, knowing that larger audiences would be seeking them out. Competition was not the point, but most breweries put time and creativity into making these beers something more than just a carbon copy of the base recipe.
With the success of these two projects, and their 2018 inspiration, we will surely see more attempts at wide-ranging collaborative projects. It's our hope that, as others consider launching projects of this magnitude, they keep the causes focused on social good. The bar has been set high. Let's keep it there.